Michal (#01 in Wives Of King David Series)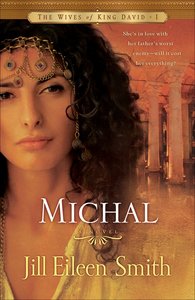 As the daughter of King Saul, Michal lives a life of privilege--but one that is haunted by her father's unpredictable moods and by competition from her beautiful older sister. When Michal falls for young David, the harpist who plays to calm her father, she has no idea what romance, adventures, and heartache await her.

As readers enter the colorful and unpredictable worlds of King Saul and King David, they will be swept up in this exciting and romantic story. Against the backdrop of opulent palace life, raging war, and desert escapes, Jill Eileen Smith takes her readers on an emotional roller-coaster ride as Michal deals with love, loss, and personal transformation as one of the wives of David. A sweeping tale of passion and drama, readers will love this amazing story.

- Publisher
You May Also Be Interested In
About "Michal (#01 in Wives Of King David Series)"
As the daughter of King Saul, Michal lives a life of privilege--but one that is haunted by her father's unpredictable moods and by competition from her beautiful older sister. When Michal falls for young David, the harpist who plays to calm her father, she has no idea what romance, adventures, and heartache await her.

As readers enter the colorful and unpredictable worlds of King Saul and King David, they will be swept up in this exciting and romantic story. Against the backdrop of opulent palace life, raging war, and desert escapes, Jill Eileen Smith takes her readers on an emotional roller-coaster ride as Michal deals with love, loss, and personal transformation as one of the wives of David. A sweeping tale of passion and drama, readers will love this amazing story.
- Publisher


Meet the Author
Jill Eileen Smith
Jill Eileen Smith has more than twenty years of writing experience, and her writing has garnered acclaim in several contests. Her research into the lives of David's wives has taken her from the Bible to Israel, and she particularly enjoys learning how women lived in Old Testament times. Jill is the author of the bestselling Michal, and a second volume Abigail, and lives with her family in southeast Michigan.
Customer Reviews For "Michal (#01 in Wives Of King David Series)"
Write Your Own Review
Sadly biased.
By virtualdesk,

Nov 09 2015
Unfortunately, Jill's books on Michal's wives left me very disappointed that Christian fiction is written from such a limited point of view. Throughout all three of her books, Jill does not seem to understand polygamy from an appropriate and balanced viewpoint. I find her assumption that there are no positive aspects to it to be biased and her treatment of many of David's wives to be offensive.

Her treatment of David is one dimension and does not allow for his character to develop throughout his life, as we know from Samuel and especially Psalm 71, that it did. She seems confused as to whether he was the good guy, or the bad guy. Reading Torah would have sorted out many issues for her.

I am sorry this is so negative, but as a David fan and someone with a Jewish background, I found Jill's work to be unfair, poorly written and I really could have done without the kiss and tell approach to his private love life, which bordered too close on inappropriate and was of a calibre I am pleased to say, I have never read in another Christian book.

I sincerely wish these books were off the shelves as anyone who does not study their Bible can be badly influenced by them. Not everyone understands that fiction should only be taken as such, and negative portrayals can worm their way into our brain and poison God's word.
---
A great read
By veronica,

Jul 07 2009
This is a good book, very close to the Biblical account as could be, very well written and such a good story, I couldn't put it down, now I can't wait for her next book!
Not enough Biblical novels about...they make you read the Bible to see if it is exact, which is what they are all about...glory to God.
---
Sweeping saga of history, romance and adventure
By Laurey Smith,

Jul 06 2009
Providing plausible 'what if' insight into the possible thoughts and actions of King David and his wife Michal, Jill Eileen Smith's first book in the 'Wives of King David' series,  Michal,  recounts the Biblical events of David's progression from shepherd boy to King of Israel and Judah. Interestingly, the story is narrated through the central character, Michal, David's first wife. While Smith's novel is a recounting of historical events, it is a fresh and touching story that thoroughly draws the reader into Michal's perspective and gives a greater understanding of God's compassion and grace. A heart-moving novel, Michal is a sweeping saga, blending history, romance and adventure, as well as demonstrating God's generous forgiveness towards a divided kingdom and a conflicted woman. 

Review by Laurey Smith, Koorong Woolloongabba

{{review.title}}
By {{review.author.name}},

{{review.reviewCreatedDate | date:'MMM dd yyyy'}}

{{reviewdescription}}
{{review.text}}
---
Other Titles In The "Wives Of King David" Series