Millar De Obsequios, Un (Spanish) (Spa) (One Thousand Gifts)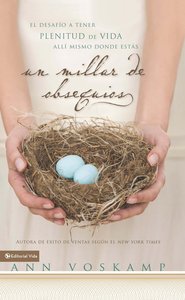 Despierte y contemplará un millar de bendiciones.Un millar de obsequios lo llama a salir de la esterilidad del orgullo, el temor y el afán de controlar su vida, para ponerse en las manos del Dios que llena su copa hasta desbordar. Mientras le habla de su gracia, Ann Voskamp le enseña la manera bíblica de enfrentar las pérdidas y convertir el dolor en poesía.Este libro es para meditarlo como una dinámica invitación a comprometerse con unas verdades que le entregarán las profundidades del gozo de Dios y transformarán su vida para siempre.Como muchos otros seres humanos, la autora siente el anhelo de vivir bien su única vida aquí en la tierra. No le interesan los escritos acerca de experiencias únicas, sino tener una hermosa guía práctica para vivir en el gozo del Señor, y eso es lo que nos brinda en las páginas de este libro.¿Es posible encontrar el gozo en medio de la mortandad, las deudas, los dramas y los deberes de la vida diaria? ¿Qué aspecto toma una vida de gratitud cuando nuestros días son agotadores, largos y a veces hasta tenebrosos? ¿Qué está haciendo Dios a favor nuestro aquí y ahora mismo? Ann descubrió que al dar gracias por la vida que ya tenía, encontró la vida que siempre había querido tener. Siguiendo sus reflexiones sobre su vida en la granja, como madre y como escritora, usted se estará embarcando en la transformadora disciplina espiritual de llevar una crónica de los dones que recibe de Dios. Así descubrirá una manera de ver la vida que lo llevará a la gratitud, a perder el temor a la muerte y a estar consciente de esa presencia continua de Dios que trae consigo una felicidad profunda y perdurable.

- Publisher
You May Also Be Interested In
About "Millar De Obsequios, Un (Spanish) (Spa) (One Thousand Gifts)"
Despierte y contemplará un millar de bendiciones.Un millar de obsequios lo llama a salir de la esterilidad del orgullo, el temor y el afán de controlar su vida, para ponerse en las manos del Dios que llena su copa hasta desbordar. Mientras le habla de su gracia, Ann Voskamp le enseña la manera bíblica de enfrentar las pérdidas y convertir el dolor en poesía.Este libro es para meditarlo como una dinámica invitación a comprometerse con unas verdades que le entregarán las profundidades del gozo de Dios y transformarán su vida para siempre.Como muchos otros seres humanos, la autora siente el anhelo de vivir bien su única vida aquí en la tierra. No le interesan los escritos acerca de experiencias únicas, sino tener una hermosa guía práctica para vivir en el gozo del Señor, y eso es lo que nos brinda en las páginas de este libro.¿Es posible encontrar el gozo en medio de la mortandad, las deudas, los dramas y los deberes de la vida diaria? ¿Qué aspecto toma una vida de gratitud cuando nuestros días son agotadores, largos y a veces hasta tenebrosos? ¿Qué está haciendo Dios a favor nuestro aquí y ahora mismo? Ann descubrió que al dar gracias por la vida que ya tenía, encontró la vida que siempre había querido tener. Siguiendo sus reflexiones sobre su vida en la granja, como madre y como escritora, usted se estará embarcando en la transformadora disciplina espiritual de llevar una crónica de los dones que recibe de Dios. Así descubrirá una manera de ver la vida que lo llevará a la gratitud, a perder el temor a la muerte y a estar consciente de esa presencia continua de Dios que trae consigo una felicidad profunda y perdurable.
- Publisher


Meet the Author
Ann Voskamp
Ann Voskamp is a writer with DaySpring (a division of Hallmark), a contributing editor to Laity Lodge's The High Calling, and a global advocate for the poor traveling for Compassion International. With an educational background in psychology and education from York University and the University of Waterloo, Ann and her husband are farmers in the Mennonite countryside of southwestern Ontario, raising a half dozen kids, crops of corn, and the roof in praise. She writes every day about the everyday wonder every day at www.aholyexperience.com .
{{review.title}}
By {{review.author.name}},

{{review.reviewCreatedDate | date:'MMM dd yyyy'}}

{{reviewdescription}}
{{review.text}}
---