Millennium #01: Flee the Darkness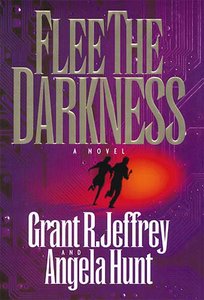 In his first fiction thriller, prophecy expert and apologist Grant Jeffrey spins a chilling tale surrounding computer genius Daniel Prentice and a secret "millennium code." The code is used to solve a national bank chain's Year 2000 computer crisis which ultimately leads to a dangerous entanglement with a one-world government. Co-written with popular novelist Angela Hunt.

- Publisher 363 Pages

- Publisher As computer expert Daniel Prentice races to develop software that will solve the Y2K crisis, he falls under the spell of world leader Adrian Romulus. Suddenly Daniel's life is rent by incomprehensible forces: his opportunity to command power and wealth; his attraction to a beautiful woman; his loving mother's prayers for his soul. Can he Flee the Darkness, or will he be sucked into the vortex of evil?

- Publisher
You May Also Be Interested In
About "Millennium #01: Flee the Darkness"
In his first fiction thriller, prophecy expert and apologist Grant Jeffrey spins a chilling tale surrounding computer genius Daniel Prentice and a secret "millennium code." The code is used to solve a national bank chain's Year 2000 computer crisis which ultimately leads to a dangerous entanglement with a one-world government. Co-written with popular novelist Angela Hunt.
- Publisher

363 Pages
- Publisher

As computer expert Daniel Prentice races to develop software that will solve the Y2K crisis, he falls under the spell of world leader Adrian Romulus. Suddenly Daniel's life is rent by incomprehensible forces: his opportunity to command power and wealth; his attraction to a beautiful woman; his loving mother's prayers for his soul. Can he Flee the Darkness, or will he be sucked into the vortex of evil?
- Publisher


Meet the Authors
Grant Jeffrey
Grant R. Jeffrey is an internationally known author of more than 20 bestsellers and the editor of the Marked Reference Prophecy Study Bible. Recognised as one of the world's leading teachers of prophecy and an intelligent defence of the Christian faith, Jeffrey appears frequently on television and radio throughout the world. He studied at Philadelphia College of the Bible before entering the business world. Later he earned his masters and Ph.D. degrees in biblical literature from Louisiana Baptist University. He and his wife, Kaye, live near Toronto where they serve in full-time ministry.- Publisher.
Angela Elwell Hunt
ANGELA ELWELL HUNT has written several children's books. Her retelling of The Tale of Three Trees has become an international best seller. She lives in Florida, USA. TIM JONKE has been illustrating books for many years and his other successes include A Night the Stars Danced for Joy and The Easter Angels, both published by Lion.