Ministering in Honor-Shame Cultures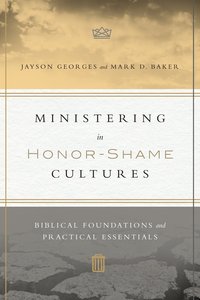 Many a Westerner has had a cross-cultural experience of honor and shame. First there are those stuttering moments in the new social landscape. Then after missed cues and social bruises comes the revelation that this culture-indeed much of the world-runs on an honor-shame operating system. When Western individualism and its introspective conscience fails to engage cultural gears, how can we shift and navigate this alternate code? And might we even learn to see and speak the gospel differently if we did? In Ministering in Honor-Shame Cultures Jayson Georges and Mark Baker help us decode the cultural script of honor and shame. What's more, they assist us in reading the Bible anew through the lens of honor and shame, often with startling turns. And they offer thoughtful and practical guidance in ministry within honor-shame contexts. Apt stories, illuminating insights and ministry-tested wisdom complete this well-rounded guide to Christian ministry in honor-shame cultures.

- Publisher
You May Also Be Interested In
About "Ministering in Honor-Shame Cultures"
Many a Westerner has had a cross-cultural experience of honor and shame. First there are those stuttering moments in the new social landscape. Then after missed cues and social bruises comes the revelation that this culture-indeed much of the world-runs on an honor-shame operating system. When Western individualism and its introspective conscience fails to engage cultural gears, how can we shift and navigate this alternate code? And might we even learn to see and speak the gospel differently if we did? In Ministering in Honor-Shame Cultures Jayson Georges and Mark Baker help us decode the cultural script of honor and shame. What's more, they assist us in reading the Bible anew through the lens of honor and shame, often with startling turns. And they offer thoughtful and practical guidance in ministry within honor-shame contexts. Apt stories, illuminating insights and ministry-tested wisdom complete this well-rounded guide to Christian ministry in honor-shame cultures.
- Publisher


Meet the Authors
Jayson Georges
Jayson Georges (MDiv, Talbot) lived in Central Asia for nine years doing church planting and micro-enterprise development. He is the author of The 3D Gospel, founder/editor of HonorShame.com and creator of The Culture Test. He serves as missiologist-in-residence at an evangelical organization, developing tools and training for Christians working in honor-shame contexts.
Mark D Baker
Mark D.Baker (Ph.D. in theology and ethics from Duke University) is Associate Professor of Theology and Mission at Mennonite Brethren Seminary in Fresno, California. A theologian and Mennonite missionary, he has observed and ministered to the church in Honduras for ten years, he is the author of Recovering the Scandal of the Cross: Atonement in New Testament and Contemporary Contexts (with Joel Green, 2000); Proclaiming the Scandal of the Cross (2006) and Religious No More: Building Communities of Grace and Freedom (2005).
Table Of Contents
Many A Westerner Has Had A Cross-cultural Experience Of Honor And Shame. First There Are Those Stuttering Moments In The New Social Landscape. Then After Missed Cues And Social Bruises Comes The Revelation That This Culture-indeed Much Of The World-runs On An Honor-shame Operating System. When Western Individualism And Its Introspective Conscience Fails To Engage Cultural Gears, How Can We Shift And Navigate This Alternate Code? And Might We Even Learn To See And Speak The Gospel Differently If We Did? In ministering In Honor-shame Cultures Jayson Georges And Mark Baker Help Us Decode The Cultural Script Of Honor And Shame. What's More, They Assist Us In Reading The Bible Anew Through The Lens Of Honor And Shame, Often With Startling Turns. And They Offer Thoughtful And Practical Guidance In Ministry Within Honor-shame Contexts. Apt Stories, Illuminating Insights And Ministry-tested Wisdom Complete This Well-rounded Guide To Christian Ministry In Honor-shame Cultures.

part I: Cultural Anthropology

2. The Heart Of Honor-shame Cultures3. The Face Of Honor-shame Cultures

part Ii: Biblical Theology

4. Old Testament5. Jesus

part Iii: Practical Ministry

6. Spirituality7. Relationships8. Evangelism9. Conversion10. Ethics11. Community

Appendix 1: Key Scriptures On Honor-shameappendix 2: Biblical Stories Addressing Honor-shameappendix 3: Recommended Resourcesacknowledgements