Minor Prophets II (Understanding The Bible Commentary Series)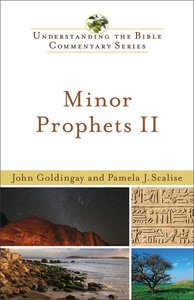 The Minor Prophets are those dozen Old Testament books that, in the time of Jesus, were usually written on one scroll since they were all fairly brief. The late Elizabeth Achtemeier prepared the New International Biblical Commentary on the first six: Hosea, Joel, Amos, Obadiah, Jonah, and Micah. This second volume deals with the final six books. John Goldingay writes on Nahum, Habakkuk, Zephaniah, and Haggai; Pamela Scalise takes on the longest, Zechariah, and the last, Malachi.

Like the authors of other volumes in the NIBC, Goldingay and Scalise utilize what is referred to as "believing criticism" when examining the biblical texts. Based on fidelity to critical analysis and sensitivity to the faith of both ancient and contemporary readers, this balanced approach enriches both the academy and the church. Following the series guidelines, the authors clearly explain the texts with additional notes regarding interpretation and "practical" reflection. For example, Goldingay issues a reminder that when the prophets spoke against the arrogance and sins of Assyria and Babylon, the Israelites needed to hear the word of God as a caution against their own pride and wickedness. He goes on to suggest that modern readers must remember, as well, that the same attitudes and actions that led to the downfall of these ancient Middle East empires can fall upon any and all who follow their example.

The New International Biblical Commentary offers the best of contemporary scholarship in a format that both general readers and serious students can use with profit. Based on the widely used New International Version translation, the NIBC presents careful section-by-section exposition with key terms and phrases highlighted and all Hebrew transliterated. A separate section of notes at the close of each chapter provides additional textual, linguistic, cultural, and technical comments. Each commentary also includes a selected bibliography as well as Scripture and subject indexes.

- Publisher
You May Also Be Interested In
About "Minor Prophets II (Understanding The Bible Commentary Series)"
The Minor Prophets are those dozen Old Testament books that, in the time of Jesus, were usually written on one scroll since they were all fairly brief. The late Elizabeth Achtemeier prepared the New International Biblical Commentary on the first six: Hosea, Joel, Amos, Obadiah, Jonah, and Micah. This second volume deals with the final six books. John Goldingay writes on Nahum, Habakkuk, Zephaniah, and Haggai; Pamela Scalise takes on the longest, Zechariah, and the last, Malachi.

Like the authors of other volumes in the NIBC, Goldingay and Scalise utilize what is referred to as "believing criticism" when examining the biblical texts. Based on fidelity to critical analysis and sensitivity to the faith of both ancient and contemporary readers, this balanced approach enriches both the academy and the church. Following the series guidelines, the authors clearly explain the texts with additional notes regarding interpretation and "practical" reflection. For example, Goldingay issues a reminder that when the prophets spoke against the arrogance and sins of Assyria and Babylon, the Israelites needed to hear the word of God as a caution against their own pride and wickedness. He goes on to suggest that modern readers must remember, as well, that the same attitudes and actions that led to the downfall of these ancient Middle East empires can fall upon any and all who follow their example.

The New International Biblical Commentary offers the best of contemporary scholarship in a format that both general readers and serious students can use with profit. Based on the widely used New International Version translation, the NIBC presents careful section-by-section exposition with key terms and phrases highlighted and all Hebrew transliterated. A separate section of notes at the close of each chapter provides additional textual, linguistic, cultural, and technical comments. Each commentary also includes a selected bibliography as well as Scripture and subject indexes.
- Publisher


Meet the Authors
John Goldingay
John Goldingay (Ph.D., University of Nottingham) is David Allan Hubbard Professor of Old Testament at Fuller Theological Seminary in Pasadena, California. His books include Models for Scripture; Models for Interpretation of Scripture; Walk On; and commentaries on Psalms (Baker Commentary on the Old Testament Wisdom and Psalms - 3 volumes); Isaiah (New International Bible Commentary); Daniel (Word Biblical Commentary); The Message of Isaiah 40-55: A Literary-Theological Commentary; and with David Payne, Isaiah 40-66 (International Critical Commentary - 2 volumes), and the recently completed Old Testament Theology(three volumes from InterVarsity Press). His major project is now to complete the series Old Testament for Everyone Bible commentary series
Koorong - Editorial Review.
Pamela Scalise
Pamela Scalise (Ph.D., Yale University) is associate professor of Old Testament at Fuller in Seattle, Washington, where she has taught since 1994. Scalise has authored the commentary on Jeremiah 26-34 (Word Biblical Commentary); Zechariah and Malachi in The Minor Prophets II (New International Bible Commentary) and Jeremiah (New International Commentary on the Old Testament), as well as numerous articles in dictionaries and journals including Review and Expositor, Faith and Mission, and Biblical Illustrator.
Koorong -Editorial Review.
Other Titles In The "Understanding The Bible Commentary" Series View All