Minor Prophets, the - 60 Bite-Sized Insights (Straight To The Heart Of Series)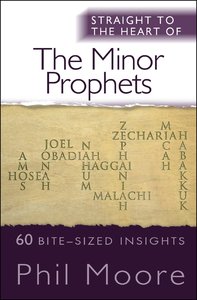 The Straight to the Heart series of devotional commentaries allows people to get to grips with each book of the Bible one bite at a time. In part one of the minor prophets we study Amos and Hosea, the two prophets sent by God to confront the northern kingdom of Israel. In part two, Jonah and Nahum, two prophets who were sent to offer the same choice between blessing and judgment to the pagan superpower Assyria. In part three, Joel, Micah, Zephaniah and Habakkuk, four prophets that the Lord sent to warn the southern kingdom of Judah. In part four, Obadiah, Haggai, Zechariah and Malachi, four prophets that God inspired after the destruction of Jerusalem and the exile to Babylon, and who spoke glorious promises about a new hope for God's people. Get ready to hear God speak to you as you read these twelve short books of prophecy. The arrival of Jesus to be our Saviour has amplified the urgent choice that they offer us. God still warns us: Blessing or curse ? you decide. There will be 25 volumes in all. Although the tone is light, the text is full of useful application and backed by substantial scholarship.

- Publisher
You May Also Be Interested In
About "Minor Prophets, the - 60 Bite-Sized Insights (Straight To The Heart Of Series)"
The Straight to the Heart series of devotional commentaries allows people to get to grips with each book of the Bible one bite at a time. In part one of the minor prophets we study Amos and Hosea, the two prophets sent by God to confront the northern kingdom of Israel. In part two, Jonah and Nahum, two prophets who were sent to offer the same choice between blessing and judgment to the pagan superpower Assyria. In part three, Joel, Micah, Zephaniah and Habakkuk, four prophets that the Lord sent to warn the southern kingdom of Judah. In part four, Obadiah, Haggai, Zechariah and Malachi, four prophets that God inspired after the destruction of Jerusalem and the exile to Babylon, and who spoke glorious promises about a new hope for God's people. Get ready to hear God speak to you as you read these twelve short books of prophecy. The arrival of Jesus to be our Saviour has amplified the urgent choice that they offer us. God still warns us: Blessing or curse ? you decide. There will be 25 volumes in all. Although the tone is light, the text is full of useful application and backed by substantial scholarship.
- Publisher


Meet the Author
Phil Moore
Phil Moore leads Queens Road Church in Wimbledon, London, UK. He also serves as a Bible teacher and evangelist within the Newfrontiers family of churches. He is the author of the "Straight to the Heart" series of devotional commentaries.
After graduating from Cambridge University, Phil spent time on the mission field and then in the business world. He has devoted many years to the Hebrew and Greek Scriptures, and he brings them to life in the language of today in the Straight to the Heart series. The first three volumes - Matthew, Acts and Revelation - were published in July 2010. Genesis and 1&2 Corinthians will be published in November 2010.
Phil is married to Ruth and they have three young children. Together, they love eating strange and exotic food, watching movies with lots of popcorn, and reading books by Roald Dahl. Phil's children complain that his own books do not contain enough pictures, talking animals or chocolate factories.
Other Titles In The "Straight To The Heart Of" Series View All