Mirror Bride (#10 in Brides Of Montclair Series)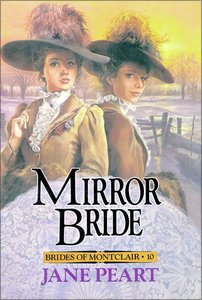 Although identical in appearance, the Cameron twins were dramatically different in temperament. Cara, vivacious, adventurous. Kitty, sensitive, introspective. But these differences had never kept them from being each other's best friend, confidante, and close companion; that is -- until one fateful summer -- the summer everything changed.

- Publisher This popular series satisfactorily combines the drama and romance that Peart's readership has come to expect and enjoy. Cara and Kitty--twin daughters of Rod and Blythe Cameron--are identical in appearance yet dramatically different in personality. As they struggle to find their own identities, Cara and Kitty each discovers a secret that the other has been keeping.

- Publisher Mishap, romance, and mistaken identity are the ingredients for enlivening Virginia's prestigious Montrose family in Book 10 of The Brides of Montclair Series.

- Publisher
You May Also Be Interested In
About "Mirror Bride (#10 in Brides Of Montclair Series)"
Although identical in appearance, the Cameron twins were dramatically different in temperament. Cara, vivacious, adventurous. Kitty, sensitive, introspective. But these differences had never kept them from being each other's best friend, confidante, and close companion; that is -- until one fateful summer -- the summer everything changed.
- Publisher

This popular series satisfactorily combines the drama and romance that Peart's readership has come to expect and enjoy. Cara and Kitty--twin daughters of Rod and Blythe Cameron--are identical in appearance yet dramatically different in personality. As they struggle to find their own identities, Cara and Kitty each discovers a secret that the other has been keeping.
- Publisher

Mishap, romance, and mistaken identity are the ingredients for enlivening Virginia's prestigious Montrose family in Book 10 of The Brides of Montclair Series.
- Publisher


Meet the Author
Jane Peart
Jane Peart was a best-selling novelist in both the secular and Christian markets. Her beloved Brides of Montclair Series is one of the longest continuous series on the market. She also published the American Quilts Series, and the Orphan Train Trilogy.
Other Titles In The "Brides Of Montclair" Series View All