Miss Katie's Rosewood (#04 in Carolina Cousins Series)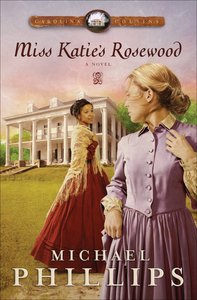 The Stirring Conclusion to the Carolina Cousins Series!

A lone rider galloped through the night.
He could not slow down or it would be too late.
Many lives, and his own future,
depended on his getting there in time....

Winds of change are blowing over the Carolina cotton fields ... changes that will rock the lives of all those who live at the Rosewood Plantation. Katie and Mayme are young women now. Jeremiah has left to seek work in the city. Can change be far behind for the rest of the Rosewood family?

Trouble lives not only in the South ... danger lurks everywhere. When Katie and Mayme travel north by train to Philadelphia, only one of them is still on board when the train reaches its destination... .

Meanwhile, the KKK plans to burn Rosewood to the ground, forcing the family to face a terrible decision. Save Rosewood--or themselves?

Will the Rosewood family survive this threat to their beloved home? Or will they be forced to say a final goodbye to ...

Miss Katie's Rosewood

- Publisher
You May Also Be Interested In
About "Miss Katie's Rosewood (#04 in Carolina Cousins Series)"
The Stirring Conclusion to the Carolina Cousins Series!

A lone rider galloped through the night.
He could not slow down or it would be too late.
Many lives, and his own future,
depended on his getting there in time....

Winds of change are blowing over the Carolina cotton fields ... changes that will rock the lives of all those who live at the Rosewood Plantation. Katie and Mayme are young women now. Jeremiah has left to seek work in the city. Can change be far behind for the rest of the Rosewood family?

Trouble lives not only in the South ... danger lurks everywhere. When Katie and Mayme travel north by train to Philadelphia, only one of them is still on board when the train reaches its destination... .

Meanwhile, the KKK plans to burn Rosewood to the ground, forcing the family to face a terrible decision. Save Rosewood--or themselves?

Will the Rosewood family survive this threat to their beloved home? Or will they be forced to say a final goodbye to ...

Miss Katie's Rosewood
- Publisher


Meet the Author
Michael Phillips
Michael Phillips is today recognized as one of the Christian bookselling industry's most prolific and versatile authors. He has authored more than 100 books, with total sales exceeding five million copies. He's also the editor of the popular GEORGE MACDONALD CLASSICS series. He and his wife make their home in Eureka, California.
Other Titles In The "Carolina Cousins Series" Series