Missing Isaac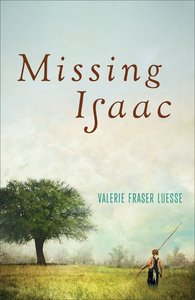 There was another South in the 1960s, one far removed from the marches and bombings and turmoil in the streets that were broadcast on the evening news. It was a place of inner turmoil, where ordinary people struggled to right themselves on a social landscape that was dramatically shifting beneath their feet. This is the world of Valerie Fraser Luesse's stunning debut, Missing Isaac.

It is 1965 when black field hand Isaac Reynolds goes missing from the tiny, unassuming town of Glory, Alabama. The townspeople's reactions range from concern to indifference, but one boy will stop at nothing to find out what happened to his unlikely friend. White, wealthy, and fatherless, young Pete McLean has nothing to gain and everything to lose in his relentless search for Isaac. In the process, he will discover much more than he bargained for. Before it's all over, Pete--and the people he loves most--will have to blur the hard lines of race, class, and religion. And what they discover about themselves may change some of them forever.

- Publisher
You May Also Be Interested In
About "Missing Isaac"
There was another South in the 1960s, one far removed from the marches and bombings and turmoil in the streets that were broadcast on the evening news. It was a place of inner turmoil, where ordinary people struggled to right themselves on a social landscape that was dramatically shifting beneath their feet. This is the world of Valerie Fraser Luesse's stunning debut, Missing Isaac.

It is 1965 when black field hand Isaac Reynolds goes missing from the tiny, unassuming town of Glory, Alabama. The townspeople's reactions range from concern to indifference, but one boy will stop at nothing to find out what happened to his unlikely friend. White, wealthy, and fatherless, young Pete McLean has nothing to gain and everything to lose in his relentless search for Isaac. In the process, he will discover much more than he bargained for. Before it's all over, Pete--and the people he loves most--will have to blur the hard lines of race, class, and religion. And what they discover about themselves may change some of them forever.
- Publisher


Meet the Author
Valerie Fraser Luesse
Valerie Fraser Luesse is an award-winning magazine writer best known for her feature stories and essays in Southern Living, where she is currently a senior travel editor. Her work has been anthologized in the audio collection Southern Voices and in A Glimpse of Heaven, an essay collection featuring works by C. S. Lewis, Randy Alcorn, John Wesley, and others. As a freelance writer and editor, she was the lead writer for Southern Living 50 Years: A Celebration of People, Places, and Culture. Specializing in stories about unique pockets of Southern culture, Luesse has published major pieces on the Gulf Coast, the Mississippi Delta, Louisiana's Acadian Prairie, and the Outer Banks of North Carolina. Her editorial section on Hurricane Katrina recovery in Mississippi and Louisiana won the 2009 Writer of the Year award from the Southeast Tourism Society. Luesse earned her bachelor's degree in English at Auburn University in Auburn, Alabama, and her master's degree in English at Baylor University in Waco, Texas. She grew up in Harpersville, Alabama, a rural community in Shelby County, and now lives in Birmingham.
Customer Reviews For "Missing Isaac"
Write Your Own Review
Great read
By Shelley ,

Jul 31 2018
Missing Isaac is a truly great read and remarkable first novel . The characters and setting are literally brought to life as you read....the mark of a magnificent author.
---
Brilliant
By Iola,

Jan 22 2018
Missing Isaac is Valerie Fraser Luesse's first novel, and I hope it won't be her last. Her writing style runs counter to some of the modern writing conventions. She uses dialect and non-standard spelling. There are unnecessary adverbs and repetition. The dialgoue tags are often clunky. The point of view is often distant, and slips into omniscient at times.

Yet it works despite these "errors". Or perhaps because of them. 

Missing Isaac doesn't fall neatly into any one genre. It's part mystery, as Pete tries to find the truth of what happened to Isaac. It's part family saga, as Pete grows up, and part romance, as he meets Dovey. And it's part historical fiction, in that it's a story set in a time far removed from ours, in terms of culture and attitude, if not years.

The writing is strong, with a unique and lyrical style, and a lot of home truths, like the privileged white boyman who doesn't understand his privilege because it's all he's ever known. It could equally be talking to those in the modern world who don't understand why #MeToo or #BlackLivesMatter are newsworthy.

Missing Isaac is a strong debut novel, with a solid story driven by strong characters and set in a time of great social change. Recommended.

Thanks to Revell and NetGalley for providing a free ebook for review.
{{review.title}}
By {{review.author.name}},

{{review.reviewCreatedDate | date:'MMM dd yyyy'}}

{{reviewdescription}}
{{review.text}}
---