Missing the Child You Love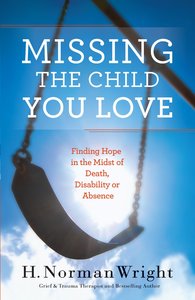 :One of the most devastating losses a family can experience is the loss of a child. Whether the loss is through illness, accident, drugs, suicide, or other tragedy, the pain is overwhelming and often paralyzing. Often we think of "loss" as death. However, in our broken world there are many ways to suffer the loss of a child. This book discusses how a family can learn to cope with loss of a child due not only to death, but also to a custody battle, addiction (and other choices a child makes), chronic illness, crime (human trafficking, kidnap), and other issues where hopes and dreams disappear. Wright helps readers through the grieving process and assists them in finding God's grace and comfort during this very difficult time of life. This book is unique as it is for parents as well as grandparents.

- Publisher
You May Also Be Interested In
About "Missing the Child You Love"
:One of the most devastating losses a family can experience is the loss of a child. Whether the loss is through illness, accident, drugs, suicide, or other tragedy, the pain is overwhelming and often paralyzing. Often we think of "loss" as death. However, in our broken world there are many ways to suffer the loss of a child. This book discusses how a family can learn to cope with loss of a child due not only to death, but also to a custody battle, addiction (and other choices a child makes), chronic illness, crime (human trafficking, kidnap), and other issues where hopes and dreams disappear. Wright helps readers through the grieving process and assists them in finding God's grace and comfort during this very difficult time of life. This book is unique as it is for parents as well as grandparents.
- Publisher


Meet the Author
H Norman Wright
Dr. H. Norman Wright is one of America's most prominent Christian counselors. He is a licensed Marriage, Family and Child Therapist. Dr. Wright is a graduate of Westmont College, Fuller Theological Seminary (M.R.E.), Pepperdine University (M.A.). He has written numerous best-selling books on Communication, Family and Parenting. His titles include Communication: Key to Your Marriage; Always Daddy's Girl; Quiet Times for Couples; The Power of a Parent's Words and the Premarital Counseling Handbook. Dr. Wright is currently on the faculty of the Talbot School of Theology and was the former director of their Graduate Department of Marriage, Family and Child Counseling.