Mission Drift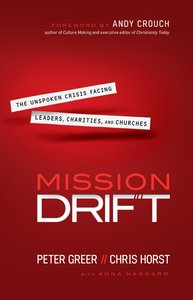 CEO of International Nonprofit Shows Organizations How to Stay True to Their Calling

As Christian organizations grow, the gospel often becomes cursory, expendable, or even forgotten. Again and again, leaders have watched their ministries, businesses, and nonprofits professionalize, expand, and lose sight of their original goals. Even churches can stray from their calling.

Mission Drift provides the tools leaders need to keep their organizations "mission true" or get back on track. Supported by research and filled with compelling anecdotes, Mission Drift identifies organizations that exhibit intentional, long-term commitment to Christ in contrast to those that have wandered away from their core beliefs.

All leaders will face mission drift at some point. Peter Greer and Chris Horst show readers how to leave an enduring Christian legacy rather than drifting off course.

- Publisher
You May Also Be Interested In
About "Mission Drift"
CEO of International Nonprofit Shows Organizations How to Stay True to Their Calling

As Christian organizations grow, the gospel often becomes cursory, expendable, or even forgotten. Again and again, leaders have watched their ministries, businesses, and nonprofits professionalize, expand, and lose sight of their original goals. Even churches can stray from their calling.

Mission Drift provides the tools leaders need to keep their organizations "mission true" or get back on track. Supported by research and filled with compelling anecdotes, Mission Drift identifies organizations that exhibit intentional, long-term commitment to Christ in contrast to those that have wandered away from their core beliefs.

All leaders will face mission drift at some point. Peter Greer and Chris Horst show readers how to leave an enduring Christian legacy rather than drifting off course.
- Publisher


Meet the Authors
Peter Greer
Peter Greer, who holds an M.P.P. from Harvards Kennedy School and a B.S. from Messiah College, is the president of HOPE International, a global faith-based microfinance organization serving over 220,000 entrepreneurs in 14 countries. A frequent lecturer and a featured panelist at Harvards International Development Conference, Peter and his wife, Laurel, live in Lancaster, PA, with their two children. He is the author The Poor Will Be Glad: Joining the Revolution to Lift the World Out of Poverty.
Chris Horst
Chris Horst is the director of advancement at HOPE International and manages a team of regional representatives located throughout the United States. He has visited many of HOPE's programs across the globe and spent time in the field as a microfinance practitioner in Romania. He completed his undergraduate degree in business at Taylor University and his MBA from Bakke Graduate University. Chris and his wife, Alli, are parents to one son, Desmond, and live in Denver, Colorado.
Anna Haggard
Anna Haggard is the executive writing assistant at HOPE International, where she collaborates with the president and the marketing department to share HOPE's message to donors through print and social media. Anna is a graduate of Asbury University and lives in Lancaster, Pennsylvania. A