Missional: Joining God in the Neighbourhood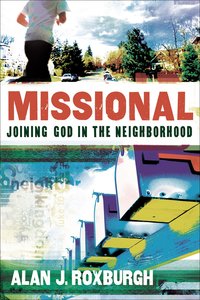 The burgeoning missional church movement is a sign that believers are increasingly feeling the call to impact their communities, which is a good thing. But, says Alan J. Roxburgh, these conversations still prioritize church success over mission--how can being missional grow my church? But to focus on such questions misses the point.

In Missional, Roxburgh calls Christians to reenter their neighborhoods and communities to discover what the Spirit is doing there--to start with God's mission. He then encourages readers to shape their local churches around that mission. With inspiring true stories and a solid biblical base, Missional is a book that will change lives and communities as its message is lived out.

- Publisher
You May Also Be Interested In
About "Missional: Joining God in the Neighbourhood"
The burgeoning missional church movement is a sign that believers are increasingly feeling the call to impact their communities, which is a good thing. But, says Alan J. Roxburgh, these conversations still prioritize church success over mission--how can being missional grow my church? But to focus on such questions misses the point.

In Missional, Roxburgh calls Christians to reenter their neighborhoods and communities to discover what the Spirit is doing there--to start with God's mission. He then encourages readers to shape their local churches around that mission. With inspiring true stories and a solid biblical base, Missional is a book that will change lives and communities as its message is lived out.
- Publisher


Meet the Author
Alan J Roxburgh
Alan J. Roxburgh is a teacher, trainer and consultant who works with Allelon and internationally framing resources for the missional church. He coordinates an international project involving leaders from twelve nations who are examining leadership formation in a globalized world. He is the author or coauthor of several books, including The Missional Church, The Missional Leader and Leadership, Liminality and the Missionary Congregation, and Reaching a New Generation. He and his wife Jane live in Vancouver, Canada, and have three grown children. He can be reached at his website, alanroxburgh.net.