Models For Youth Ministry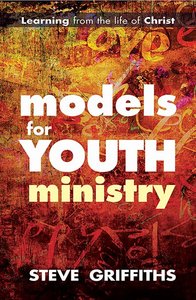 This book explores models for youth ministry from the life and ministry of Christ. This area of study has become fossilised because youth workers rely too heavily on the notion of 'incarnational' or 'relational' youth ministry. This leads them to believe that they must spend huge amounts of time with young people in order to 'earn the right' to share the gospel with them. The author argues that this foundation for youth ministry is inadequate and impractical and that it is not how Jesus himself operated. The author argues that youth workers need a broader Christology. Each chapter includes study questions for individuals or groups.

- Publisher
You May Also Be Interested In
About "Models For Youth Ministry"
This book explores models for youth ministry from the life and ministry of Christ. This area of study has become fossilised because youth workers rely too heavily on the notion of 'incarnational' or 'relational' youth ministry. This leads them to believe that they must spend huge amounts of time with young people in order to 'earn the right' to share the gospel with them. The author argues that this foundation for youth ministry is inadequate and impractical and that it is not how Jesus himself operated. The author argues that youth workers need a broader Christology. Each chapter includes study questions for individuals or groups.
- Publisher


Meet the Author
Steve Griffiths
The Revd Steve Griffiths is Rector of a team of churches near Cambridge, having previously ministered in the Birmingham area, London and Essex. He specialises in youth ministry and has trained youth workers around the world as well as in the UK. Formerly Director of the Centre for Youth Ministry at Ridley Hall, Cambridge, he has written books and articles on pastoral theology and was founding editor of the Journal of Youth and Theology.