Mom: Mothering Without Guilt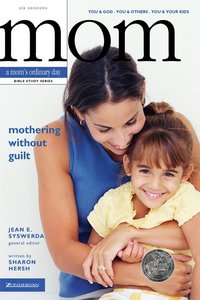 A Bible study series addressing the unique needs of moms.These 8 Bible studies help women discover God's wisdom on how to be the best mothers, women, and disciples they can be. Each study contains 6 sessions divided into 5 flexible portions: For You Alone, For You and God's Word, For You and Others, For You and God, and For You and Your Kids. The last section helps moms share each week's nugget of truth with their children.* Mothering without Guilt identifies and debunks the ?perfect mom? stereotypes and encourages moms to be real---not perfect---and forgiven---not guilty.

- Publisher
You May Also Be Interested In
About "Mom: Mothering Without Guilt"
A Bible study series addressing the unique needs of moms.These 8 Bible studies help women discover God's wisdom on how to be the best mothers, women, and disciples they can be. Each study contains 6 sessions divided into 5 flexible portions: For You Alone, For You and God's Word, For You and Others, For You and God, and For You and Your Kids. The last section helps moms share each week's nugget of truth with their children.* Mothering without Guilt identifies and debunks the ?perfect mom? stereotypes and encourages moms to be real---not perfect---and forgiven---not guilty.
- Publisher


Meet the Author
Erin Healy
Erin Healy is an award-winning editor who worked with Ted Dekker on more than a dozen of his stories before their collaboration on Kiss. She is owner of WordWright Editorial Services in Colorado. She and her husband, Tim, are proud parents of a preschooler.