Monday Morning Faith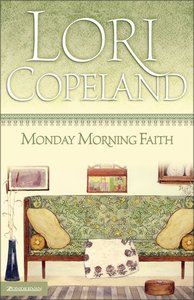 Dear Mom and Pop, Two days ago we all spent the afternoon in palm trees. One of the village dogs broke his leash and treed the whole community. The dog is mean, but I have managed to form a cautious relationship with him by feeding him scraps from our table, and jelly beans ... I hope candy doesn't hurt a dog; it hasn't hurt this dog, I can assure you. I know you're wondering about Sam ... I love him with all my heart, but sometimes love isn't enough. Love always, Johanna Librarian Johanna Holland likes her simple life in Saginaw, Michigan. So why is she standing in the middle of the New Guinea Jungle? Johanna is simply aghast at the lack of hot showers and ... well ... clothing! She is positive the mission field is most certainly not God's plan for her life, but will that mean letting go of the man she loves? Warm and whimsical, Monday Morning Faith will take you on a spiritual journey filled with depth and humor.

- Publisher
You May Also Be Interested In
About "Monday Morning Faith"
Dear Mom and Pop, Two days ago we all spent the afternoon in palm trees. One of the village dogs broke his leash and treed the whole community. The dog is mean, but I have managed to form a cautious relationship with him by feeding him scraps from our table, and jelly beans ... I hope candy doesn't hurt a dog; it hasn't hurt this dog, I can assure you. I know you're wondering about Sam ... I love him with all my heart, but sometimes love isn't enough. Love always, Johanna Librarian Johanna Holland likes her simple life in Saginaw, Michigan. So why is she standing in the middle of the New Guinea Jungle? Johanna is simply aghast at the lack of hot showers and ... well ... clothing! She is positive the mission field is most certainly not God's plan for her life, but will that mean letting go of the man she loves? Warm and whimsical, Monday Morning Faith will take you on a spiritual journey filled with depth and humor.
- Publisher


Meet the Author
Lori Copeland
Lori Copeland, Christian novelist, lives in the beautiful Ozarks with her husband and family. After writing in the secular romance market for 15 years, she now spends her time penning books that edify readers and glorify God. She has been writing for twenty-three years. In 2000, Lori was inducted into the Springfield Writers Hall of Fame. Over three million of her books are in print.
Titles by Lori Copeland The Christmas Lamp; Simple Gifts; Now and Always; Monday Morning Faith; Simple Gifts; Unwrapping Christmas and Monday Morning Faith