Money and the Prosperous Soul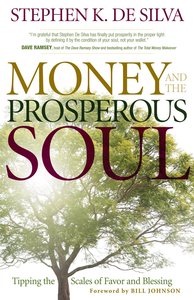 In an age of mounting credit debt, get-rich-quick schemes, and high unemployment, many people are left wondering, "Why am I always struggling with finances? Why can't I seem to get ahead?" While the market is flooded with short-term help, few resources address the root spiritual problems behind money.

In a warm, conversational style, CFO and CPA firm owner Stephen K. DeSilva offers a unique, prophetic/supernatural approach to handling money. This respected charismatic leader combines financial philosophy, biblical truth, supernatural deliverance, and prophetic teaching, and also offers related practical and prophetic exercises throughout each chapter.

Money and the Prosperous Soul will help every believer struggling with lack to overcome wrong thinking and destructive cycles and learn the biblical and supernatural principles of success. Free online resources make this a perfect resource for small group classes and self-study.

- Publisher
You May Also Be Interested In
About "Money and the Prosperous Soul"
In an age of mounting credit debt, get-rich-quick schemes, and high unemployment, many people are left wondering, "Why am I always struggling with finances? Why can't I seem to get ahead?" While the market is flooded with short-term help, few resources address the root spiritual problems behind money.

In a warm, conversational style, CFO and CPA firm owner Stephen K. DeSilva offers a unique, prophetic/supernatural approach to handling money. This respected charismatic leader combines financial philosophy, biblical truth, supernatural deliverance, and prophetic teaching, and also offers related practical and prophetic exercises throughout each chapter.

Money and the Prosperous Soul will help every believer struggling with lack to overcome wrong thinking and destructive cycles and learn the biblical and supernatural principles of success. Free online resources make this a perfect resource for small group classes and self-study.
- Publisher


Meet the Author
Stephen K Desilva
Stephen DeSilva is the chief financial officer of Bethel Church in Redding, California, and owner of his own CPA firm in the Redding area. He teaches on The Prosperous Soul and is committed to equipping people in maintaining financial integrity through insightful, practical, and prophetic teaching. He and his wife, Dawna, have two sons and live in Redding.