Money, Possessions and Eternity (& 2003)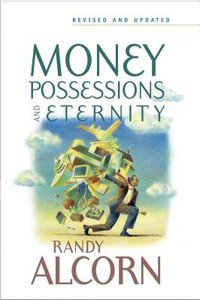 Who wants to settle for fleeting treasures on earth.... When God offers everlasting treasures in heaven? Its time to rethink our perspectives on money and possessions. In this thoroughly researched and extensively updated classic, Randy Alcorn shows us how to view them accurately--as Gods provision for our good, the good of others, and his glory.lt;p>Alcorn presents a biblical and comprehensive view of money and possessions, including: Why is money so important to God?. Is prosperity theology right or wrong?. How can we be liberated from materialism?. What should we do about debt?. How much does God want us to give?. How can we best help the poor and reach the lost?. What about gambling? investing? insurance?. saving? retirement? inheritance?. How can we leave our children a true heritage?. How can we use money in ways that God rewards? This practical and refreshing theology of money contains topical and Scripture indexes, a study guide, and five helpful appendices.

- Publisher What does the Bible really say about money? This completely revised and updated version of the classic best-seller provides a Christian perspective about money and material possessions based on the author's painstaking study of the Bible. Randy Alcorn uses the Scriptures to approach this often touchy subject head-on. Thought-provoking arguments challenge readers to rethink their attitudes and use their God-given resources in ways that will have an eternal impact. Alcorn deals straightforwardly with issues of materialism, stewardship, prosperity theology, debt, and more. An excellent choice for group study as well as individual financial guidance. Includes a study guide and appendix with additional resources.

- Publisher
You May Also Be Interested In
About "Money, Possessions and Eternity (& 2003)"
Who wants to settle for fleeting treasures on earth.... When God offers everlasting treasures in heaven? Its time to rethink our perspectives on money and possessions. In this thoroughly researched and extensively updated classic, Randy Alcorn shows us how to view them accurately--as Gods provision for our good, the good of others, and his glory.lt;p>Alcorn presents a biblical and comprehensive view of money and possessions, including: Why is money so important to God?. Is prosperity theology right or wrong?. How can we be liberated from materialism?. What should we do about debt?. How much does God want us to give?. How can we best help the poor and reach the lost?. What about gambling? investing? insurance?. saving? retirement? inheritance?. How can we leave our children a true heritage?. How can we use money in ways that God rewards? This practical and refreshing theology of money contains topical and Scripture indexes, a study guide, and five helpful appendices.
- Publisher

What does the Bible really say about money? This completely revised and updated version of the classic best-seller provides a Christian perspective about money and material possessions based on the author's painstaking study of the Bible. Randy Alcorn uses the Scriptures to approach this often touchy subject head-on. Thought-provoking arguments challenge readers to rethink their attitudes and use their God-given resources in ways that will have an eternal impact. Alcorn deals straightforwardly with issues of materialism, stewardship, prosperity theology, debt, and more. An excellent choice for group study as well as individual financial guidance. Includes a study guide and appendix with additional resources.
- Publisher


Meet the Author
Randy Alcorn
Randy is the author of Heaven which has sold over 4 million copies as well as the novel Courageous.Eternity with Kingstone Media is his first graphic novel.
Customer Reviews For "Money, Possessions and Eternity (& 2003)"
Write Your Own Review
Excellent book addressing Christians and Money
By MatthewT,

May 28 2016
Alcorn presents a comprehensive book about finances and how Christians should think about this concept of wealth and money. 

He would generally be considered to take a conservative approach to finances, although does highlight the gift that money and resources are from God and the potential enjoyment of money. 
He places a high value on the concept of stewardship. 

One of Alcorn's strengths is his extensive use of Scripture. The reader may not agree with all of his conclusions, especially given the controversy around money and wealth, but he certainly will challenge the reader to consider how to better steward God's resources.

Topics include: the challenge of money as Christians, money in light of eternity, giving and sharing, practical questions about lifestyle, debt, saving, materialism, and more. The book is very practical and addresses real questions and issues in the lives of Christians.

The book is very dense and lengthy, with small font size and over 400 pages. The comprehensiveness does make for hard reading. However, the book is broken into clear chapters and topics, so makes reading and reference simpler.

Overall, a Bible saturated, challenging book about money. Well worth reading. 

{{review.title}}
By {{review.author.name}},

{{review.reviewCreatedDate | date:'MMM dd yyyy'}}

{{reviewdescription}}
{{review.text}}
---