Money Won't Make You Rich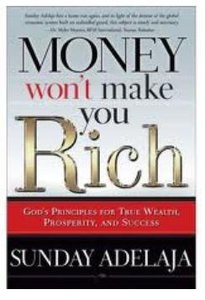 In Money Won't Make You Rich, Sunday Adelaja gives readers a comprehensive guide to successful living God's way. Combining biblical truth, financial advice, and his own life experiences, he explains such topics as:
- Financial freedom
- The true meaning of prosperity
- The secret of success and four principles of continuous success
- Three laws to making your money work
- The core reason for financial failure
You May Also Be Interested In
About "Money Won't Make You Rich"
In Money Won't Make You Rich, Sunday Adelaja gives readers a comprehensive guide to successful living God's way. Combining biblical truth, financial advice, and his own life experiences, he explains such topics as:
- Financial freedom
- The true meaning of prosperity
- The secret of success and four principles of continuous success
- Three laws to making your money work
- The core reason for financial failure
- Koorong


Meet the Author
Sunday Adelaja
Sunday Adelaja is founder and senior pastor of The Embassy of the Blessed Kingdom of God for All Nations in Kiev, Ukraine. The phenomenon of his ministry is that he originates from Nigeria, Africa, and has been able to prove that cross-cultural ministry is possible in the 21st century. He pastors the largest church in Europe with over 25,000 members who are 90 percent white Europeans. The church grew from 7 people in 1994 to 20,000 in 2002 and has now planted more than 300 churches in 15 countries.