Moonlight Promise (Ebook Shorts)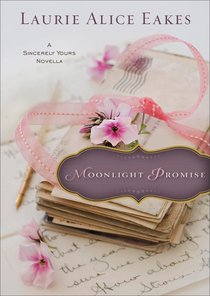 In this collection of brand-new historical novellas from four outstanding storytellers, four young women find their lives altered after each receives a letter that sets her on a new path toward a changed life--and perhaps lifelong love. From a Hudson River steamboat to a lush drawing room, from a carousel carver's workshop to a remote and controversial hospital, readers will love being swept into the lives of four young women who are making their way in the world and finding love where they least expect it.

- Publisher
You May Also Be Interested In
About "Moonlight Promise (Ebook Shorts)"
In this collection of brand-new historical novellas from four outstanding storytellers, four young women find their lives altered after each receives a letter that sets her on a new path toward a changed life--and perhaps lifelong love. From a Hudson River steamboat to a lush drawing room, from a carousel carver's workshop to a remote and controversial hospital, readers will love being swept into the lives of four young women who are making their way in the world and finding love where they least expect it.
- Publisher


Meet the Authors
Ann Shorey
Ann Shorey has published selections in the Cup of Comfort series and in Chicken Soup for the Grandma's Soul. Shorey lives with her husband, Richard, in Sutherlin, Oregon. This is her first novel.
Laurie Alice Eakes
Laurie Alice Eakes is the author of "Lady in the Mist", "Heart's Safe Passage", "A Necessary Deception", "A Flight of Fancy", and several other novels. She won a National Readers Choice Award for Best Regency in 2007 for Family Guardian. Laurie Alice writes full-time from her home in Texas, where she lives with her husband and sundry dogs and cats. A
Amanda Cabot
Amanda Cabot is an accomplished author under various pen names. She is a charter member of Romance Writers of America, the co-founder of its New Jersey chapter, and an avid traveler. She lives in Cheyenne, Wyoming.
Jane Kirkpatrick
Jane Kirkpatrick is the author of twenty-five books and is a two-time winner of the WILLA Literary Award. Her first novel, A Sweetness to the Soul, won the Western Heritage Wrangler Award, an honor given to writers such as Barbara Kingsolver and Larry McMurtry. For twenty-six years she 'homesteaded' with her husband Jerry on a remote ranch in Eastern Oregon. She now lives with Jerry, and her two dogs and one cat on small acreage in Central Oregon while she savors the value of friendship over fame.