Moral Formation According to Paul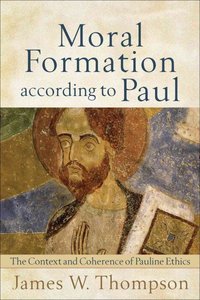 This fresh treatment of Paul's ethics addresses this question: how, according to Paul, can Christian communities know how God wants them to live? Leading biblical scholar James Thompson explains that Paul offers a coherent moral vision based not only on the story of Christ but also on the norms of the law. Paul did not live with a sharp dichotomy of law and gospel and recognized the continuing importance of the law. Thompson makes a distinctive contribution by locating the roots of Paul's concrete ethical thought in Hellenistic Judaism rather than Hellenistic moral philosophy. Students of New Testament ethics and Pauline theology will value this work.

- Publisher
You May Also Be Interested In
About "Moral Formation According to Paul"
This fresh treatment of Paul's ethics addresses this question: how, according to Paul, can Christian communities know how God wants them to live? Leading biblical scholar James Thompson explains that Paul offers a coherent moral vision based not only on the story of Christ but also on the norms of the law. Paul did not live with a sharp dichotomy of law and gospel and recognized the continuing importance of the law. Thompson makes a distinctive contribution by locating the roots of Paul's concrete ethical thought in Hellenistic Judaism rather than Hellenistic moral philosophy. Students of New Testament ethics and Pauline theology will value this work.
- Publisher


Meet the Author
James W Thompson
James W. Thompson (PhD, Vanderbilt University) is the Robert and Kay Onstead Distinguished Professor of Biblical Studies at Abilene Christian University in Abilene, Texas, and associate dean of ACU's graduate school of theology. He is the editor of Restoration Quarterly and the author of several books, including Pastoral Ministry according to Paul, Preaching like Paul, The Beginnings of Christian Philosophy and Hebrews: Paideia Commentaries on the New Testament.
Table Of Contents
Introduction: Paul's Moral Teaching In Context
1. Ethics In Hellenistic Judaism: Maintaining Jewish Identity In The Diaspora
2. Shaping An Identity: Moral Instruction And Community Formation
3. From Catechesis To Correspondence: Ethos And Ethics In 1 Thessalonians
4. Pauline Catechesis And The Lists Of Vices And Virtues
5. Paul, The Law, And Moral Instruction
6. Paul, The Passions, And The Law
7. Putting Love Into Practice
8. Ethics And The Disputed Letters Of Paul
conclusion: The Coherence Of Paul's Moral Teaching
indexes