Moral Revolution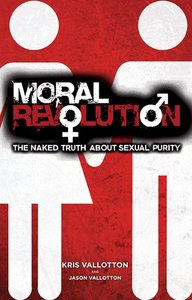 :Sex. Purity. Virginity. Love.

Moral Revolution seeks to inspire a culture of love, honor and respect with people who walk in purity, passion and power. This intimate and honest book addresses the root causes of purity issues rather than merely communicating to the masses to "abstain from having sex." It will call you to a higher standard of living, imparting value for your heart and encouraging you to walk in all God has created you to be. Many who have given in to the power of peer pressure and the lure of distorted cultural values will find hope and courage to start over again.

Moral Revolution is written for radical and passionate people who dream of being catalysts to a different kind of sexual revolution--one that transforms the way the world views sexuality, defines the unborn and embraces the family. Join the Moral Revolution!

- Publisher
You May Also Be Interested In
About "Moral Revolution"
:Sex. Purity. Virginity. Love.

Moral Revolution seeks to inspire a culture of love, honor and respect with people who walk in purity, passion and power. This intimate and honest book addresses the root causes of purity issues rather than merely communicating to the masses to "abstain from having sex." It will call you to a higher standard of living, imparting value for your heart and encouraging you to walk in all God has created you to be. Many who have given in to the power of peer pressure and the lure of distorted cultural values will find hope and courage to start over again.

Moral Revolution is written for radical and passionate people who dream of being catalysts to a different kind of sexual revolution--one that transforms the way the world views sexuality, defines the unborn and embraces the family. Join the Moral Revolution!
- Publisher


Meet the Authors
Kris Vallotton
Kris Vallotton is the founder and overseer of the Bethel School of Supernatural Ministry in Redding, California. He is the Senior Associate Leader at Bethel Church, and has been a part of Bill Johnson's apostolic team for over 26 years. Kris is an internationally recognized prophetic voice, and he and his wife Kathy have trained, developed, and pastored prophetic teams and supernatural schools all over the world. He is a notable speaker with a vision and passion to equip an "Elijah Generation" for the end-times harvest. He has authored numerous books including the best-selling Supernatural Ways of Royalty, as well as Developing a Supernatural Lifestyle, Basic Training for the Prophetic Ministry, and Purity.
Jason Vallotton
Kris Vallotton is the cofounder and senior overseer of the Bethel School of Supernatural Ministry, which has grown to more than 1200 full-time students in 13 years. He is also the founder and president of Moral Revolution, an organization dedicated to cultural transformation, and is the senior associate leader of Bethel Church in Redding, California. Kris has written several books, including Heavy Rain and the bestseller Supernatural Ways of Royalty. He and his wife, Kathy, have four children (three in full-time ministry) and eight grandchildren.Jason Vallotton was born and raised in Weaverville, CA, a small town known for its mountainous views and mellow pace of life. He got a quick start in life after getting married at the age of 18 to his high school sweetheart and fathering their three children by the age of 24 (Elijah, Rilie and Evan). Jasonrsquo;s life has been riddled with challenges, from raising a young family and fighting fires through the hills of Northern California, to overcoming the heartbreak of his marriage dissolving in 2008. He has become a testimony to the redemptive power of perseverance and unconditional love. Jasonrsquo;s love for people and his drive to see them completely whole, has led him to Redding CA, where he helps to oversee a School of Ministry and a menrsquo;s sexual purity group. Having gone through the hardships of life and come out on the other side, Jason has a heart to see people restored to complete wholeness and freedom, the way God intended them.