More Bible Baddies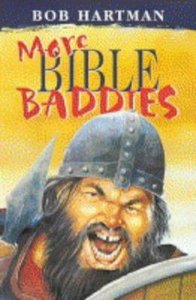 Here are ten Bible stories as they've never been told before, featuring a selection of famous, infamous and little-known-but wicked biblical characters. Some are funny. Others are sinister. And some are reformed baddies. Their dastardly deeds, pride, ruthlessness and misuse of power are vividly recreated. Some are good 'come-uppance' stories, others show God's compassion for the worst of 'baddies'. Includes* Adam, Jacob, Athaliah, Ahab and Jezebel, Goliath, Haman, Judas, Ananias and Sapphira, Saul/Paul, Simon Magus.

- Publisher The Bible's most colourful villains and anti-heroes are included in this collection of stories featuring famous and infamous characters, such as the murderous Jezebel, the heartless Athaliah, the big bully Goliath and the scheming Judas.

- Publisher
You May Also Be Interested In
About "More Bible Baddies"
Here are ten Bible stories as they've never been told before, featuring a selection of famous, infamous and little-known-but wicked biblical characters. Some are funny. Others are sinister. And some are reformed baddies. Their dastardly deeds, pride, ruthlessness and misuse of power are vividly recreated. Some are good 'come-uppance' stories, others show God's compassion for the worst of 'baddies'. Includes* Adam, Jacob, Athaliah, Ahab and Jezebel, Goliath, Haman, Judas, Ananias and Sapphira, Saul/Paul, Simon Magus.
- Publisher

The Bible's most colourful villains and anti-heroes are included in this collection of stories featuring famous and infamous characters, such as the murderous Jezebel, the heartless Athaliah, the big bully Goliath and the scheming Judas.
- Publisher


Meet the Author
Bob Hartman
Bob Hartman is the author of the best-selling Lion Storyteller series and a number of picture book retellings of favourite stories including: The Wolf who Cried Boy and Dinner in the Lions' Den and the highly acclaimed Angels, Angels all around. Sales of his books are in excess of one million copies. Bob divides his time between writing and storytelling in schools and libraries.