More Ready Than You Realize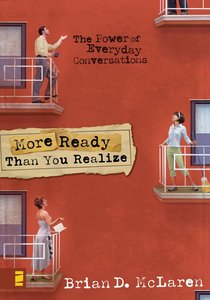 A book on evangelizing postmoderns by an experienced pastor-writer who is successfully involved in it.
You May Also Be Interested In
About "More Ready Than You Realize"
A book on evangelizing postmoderns by an experienced pastor-writer who is successfully involved in it.
- Koorong


WARNING: This is not just another book on evangelism. It's a simple idea of evangelism through friendship first, and the opportunities to share your faith that follow. It will bring friendships you already have to a new levels, and create opportunities for new, authentic friendships with those you will eventually meet. OUT: Evangelism as sales pitch, as conquest, as warfare, as ultimatum, as threat, as proof, as argument, as entertainment, as show, as monologue, as something you have to do. IN: Disciple-making as conversation, as friendship, as influence, as invitation, as companionship, as challenge, as opportunity, as conversation, as dance, as something you get to do. You're more ready for this than you realize, and so are your friends!
- Publisher
Meet the Author
Brian Mclaren
Brian D. McLaren (MA, University of Maryland) is founding pastor of Cedar Ridge Community Church, an innovative, nondenominational church in the Baltimore-Washington region. He's also a senior fellow with emergent village(www.emergentvillage.org), a growing generative friendship of missional Christian leaders.
He is the author of three best selling books on Emergent beliefs written in the form of fiction The Last Word and the Word after That; A New Kind of Christian: A Tale of Two Friends on a Spiritual Journey and The Story We Find Ourselves In: Further Adventures of a New Kind of Christian.
Two books on Finding Faith, A Search for what is Real and A Search for What makes Sense
Three books on Emergent evangelism and culture, More Ready than you Realise; The Church on the other side: Doing ministry in the Postmodern matrix, and A Is for Abductive: The Language of the Emerging Church
Three books on Kingdom beliefs, A Generous Orthodoxy, The Secret Message of Jesus, and Everything must change: Jesus, Global Crisis and a Revolution of Hope. and a book on Emergent Spirituality Finding Our Way Again: The Return of the Ancient Practices .
Customer Reviews For "More Ready Than You Realize"
Write Your Own Review
Misses the mark
By Robert,

Sep 03 2012
McLaren presents a case-study of his friendship with a post-modern seeker, extracting insights from this that he contends could revolutionise evangelism. McLaren argues that evangelism is about responding to people's experiences, but he tells us little about the Gospel message, unfortunately. He demonstrates that rapidly presenting the Gospel rarely has any lasting effect. Instead, questioning should be encouraged.

McLaren falls short of achieving his goal of cultural engagement, writing as if post-modernism dominates the world today. Instead of seeing post-modernism as a threat to Christian truth, McLaren embraces it as a good approach, since we only see in part anyway. Tragically, however, he fails to realise that this requires a shift from post-modern suspicion to a more amenable humility. And even more tellingly, is it true that society has moved decisively from modernism to post-modernism?

The book's critical failure is its lack of theological depth. On page 34, McLaren lists many competing ideas of God. His point is that God transcends categories and is more amenable to post-modernism which constantly questions. However, he never provides any biblical basis for this. He says that God is "alive and out of the box" (page 64), but why should we agree with him (Luke 20:3, anyone?). This is a major shortcoming. In his eight factors in chapter 18, none of them focus on searching the Bible in order to know Christ. Overall, the book recommends a subjective approach to the Gospel; one that is only tangentially interested in the Bible's teaching.
{{review.title}}
By {{review.author.name}},

{{review.reviewCreatedDate | date:'MMM dd yyyy'}}

{{reviewdescription}}
{{review.text}}
---