More Than a Carpenter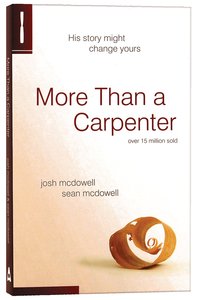 $

6.99

$

5.24
You Save: $1.75 (25%)
Paperback
Josh McDowell's timeless examination of the true nature of Christ and his impact on our lives is one of the best-selling Christian books ever (more than eight million copies in print worldwide!)

As a college student, Josh McDowell thought Christians must be "out of their minds". He put them down and argued against their faith. But eventually he saw that his arguments wouldn't stand up, that Jesus really was God in human flesh. Josh became a speaker on college and university campuses, challenging those who were just as skeptical as he had been. Here Josh focuses upon the person who changed his life - Jesus Christ. A hard-headed book for people who are sceptical about Jesus' deity, his resurrection, and his claims on their lives. 128 pages, from Living Books.

- Publisher The inspirational classic More than a Carpenter is now updated for a new generation with a fresh look, revised material, and a new chapter that addresses questions commonly raised today. Josh McDowell is joined by his son Sean as they examine the evidence about Jesus.

- Publisher
You May Also Be Interested In
About "More Than a Carpenter"
Josh McDowell's timeless examination of the true nature of Christ and his impact on our lives is one of the best-selling Christian books ever (more than eight million copies in print worldwide!)

As a college student, Josh McDowell thought Christians must be "out of their minds". He put them down and argued against their faith. But eventually he saw that his arguments wouldn't stand up, that Jesus really was God in human flesh. Josh became a speaker on college and university campuses, challenging those who were just as skeptical as he had been. Here Josh focuses upon the person who changed his life - Jesus Christ. A hard-headed book for people who are sceptical about Jesus' deity, his resurrection, and his claims on their lives. 128 pages, from Living Books.
- Publisher

The inspirational classic More than a Carpenter is now updated for a new generation with a fresh look, revised material, and a new chapter that addresses questions commonly raised today. Josh McDowell is joined by his son Sean as they examine the evidence about Jesus.
- Publisher


Meet the Authors
Josh Mcdowell
Josh McDowell is an internationally known speaker, author, and champion of the 'Beyond Belief' Campaign. He is a travelling representative of Campus Crusade for Christ speaking to more than ten million people in at least 84 countries, including 700 university and college campuses.
Josh has authored or co-authored more than 90 books, including the classic A Ready Defense, Evidence that Demands a Verdict and Answers to Tough Questions
Sean Mcdowell
A popular speaker at schools, churches, and conferences, focuses on helping young people think critically about key moral issues. He is a highschool teacher, holds advanced degrees in philosophy and theology, and has compiled Josh McDowell's Youth Ministry Handbook and authored Ethix: Being Bold in a Whatever World and co-authored Understanding Intelligent Design along with William A. Dembski and The Credible Resurrection with Josh McDowell (Gospel Light, 2008).
He is currently the general editor for The Apologetics Study Bible for Teens. Sean has also contributed to YouthWorker Journal, Decision Magazine, the Christian Research Journal, and writes regular columns for www.planetwisdom.com and www.christianworldviewnetwork.com.
Customer Reviews For "More Than a Carpenter"
Write Your Own Review
Highly Recommended
By Dena,

Mar 10 2017
This book has been around for a long time, but I highly recommend it.  
I think it is a great book that equips you with the knowledge you need when your faith is questioned by others.
I also think it is a great book to give to people who do not believe, or have questions about the Christian faith.
The book is well written, easy to read, interesting and informative. 
---
Essential reading for Christians and people wanting to know more about Christianity
By Nicole,

Dec 13 2016
Fantastic book. A very thorough analysis of the case for Christianity and the divinity of Jesus. Looks at the arguments for Christian belief from a variety of perspectives and provides concrete evidence on crucial topics such as the preservation of the Bible. 
---
Must read!
By YM,

Oct 25 2016
This book is packed with things we need to know about Jesus, His resurrection, the Bible, etc.

It gives answers to almost all important questions about Christianity. It will be a great book to give to non-Christian, new Christian and also mature Christian. Because it will strengthen faith and understanding about our Lord Jesus Christ and the Bible.

A must read!
---
Who is Jesus?
By Helen,

Aug 27 2016
A great little book for those who are seeking to know about Jesus for the first time. Likewise, just as good for those who have been Christians for awhile but are wanting to find ways to challenge those around them about who Jesus claims to be. Josh and Sean break down the difficult questions people often wonder about Jesus into clear and compelling segments, and in a way that is challenging yet gentle, they draw readers into a deeper, more logical and more firm foundation for their faith. An incredible book that has widened my understanding and love for my Saviour. 
---
Excellent .
By Kylie,

Dec 07 2015
This is an excellent book that has deepened my faith. Knowing all the amazing facts about the bible and why it can be trusted are fundamental to any believers walk in Christ. I myself have been a believer for many years, Through those years for a variety of reasons I was sceptical of God and the bible. This book has not only strengthened my faith, it has given me strong roots to Gods truth. It has also helped me to share with others the truth of God's word, and why it is true and can be believed and trusted. At first I thought it was a book only for unbelievers, and those who are searching. But after reading 'More than a Carpenter', I would highly recommend this book to any one. Both believes or anyone who wants to know about Jesus would enjoy this easy to read and understand book. 
{{review.title}}
By {{review.author.name}},

{{review.reviewCreatedDate | date:'MMM dd yyyy'}}

{{reviewdescription}}
{{review.text}}
---