More Than Words (#02 in Daughters Of Amana Series)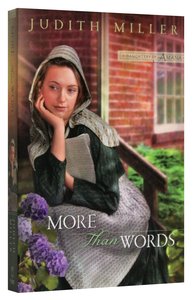 Gretchen Kohler is an Amana storekeeper's daughter with a secret passion for writing. But artistic pursuits are frowned upon in her conservative Amana village, so she confines her poems and stories to her journals, letting only close friends read them. When a young reporter comes into her store, she believes she's found a kindred spirit. She shares a few of her stories with him--only to have her trust betrayed in the worst of ways, resulting in trouble for her entire community. The scandal is made even worse by the fact that gypsies have camped nearby and seem to be preying upon the Amanans' compassionate, pacifist nature. Will Gretchen lose her job, her reputation, and the love of her childhood beau all because of one bad decision?

- Publisher Can a young woman who harbors a secret passion for writing in the Amana Colonies in 1885 find belonging in a society that bans artistic expression?

- Publisher
You May Also Be Interested In
About "More Than Words (#02 in Daughters Of Amana Series)"
Gretchen Kohler is an Amana storekeeper's daughter with a secret passion for writing. But artistic pursuits are frowned upon in her conservative Amana village, so she confines her poems and stories to her journals, letting only close friends read them. When a young reporter comes into her store, she believes she's found a kindred spirit. She shares a few of her stories with him--only to have her trust betrayed in the worst of ways, resulting in trouble for her entire community. The scandal is made even worse by the fact that gypsies have camped nearby and seem to be preying upon the Amanans' compassionate, pacifist nature. Will Gretchen lose her job, her reputation, and the love of her childhood beau all because of one bad decision?
- Publisher

Can a young woman who harbors a secret passion for writing in the Amana Colonies in 1885 find belonging in a society that bans artistic expression?
- Publisher


Meet the Author
Judith Miller
Judith Miller is an award-winning author whose avid research and love for history are reflected in her novels, two of which have placed in the CBA top ten lists. In addition to her writing, Judy is a certified legal assistant. Judy and her husband make their home in Topeka, Kansas.
Other Titles In The "Daughters Of Amana" Series