Mother of Malawi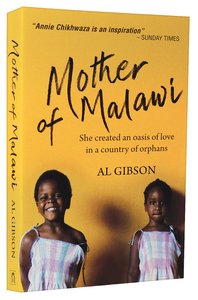 Annie Chikhwaza grew up in Holland. In struggling to come to terms with her abuse as a child she tried to commit suicide but was dramatically converted through the ministry of Brother Andrew. She then began to minister to the poor and marginalized on the streets of Amsterdam and in the volatile townships of South Africa during the height of the apartheid era. Having survived an abusive marriage and the turmoil of divorce she married a poor African pastor and went to Malawi to start an orphanage. Today Annie has nearly 200 children in her care, many of whom are HIV positive, and she has built a small town called Kondanani ('Love one another'), which boasts a care facility, several children's homes, a nursery school, primary school and farm. Kondanani is an oasis of love in a country with more than one million orphans. It has attracted the attention of the media all around the world and a host of celebrities, including Madonna who has adopted two of her children.

- Publisher
You May Also Be Interested In
About "Mother of Malawi"
Annie Chikhwaza grew up in Holland. In struggling to come to terms with her abuse as a child she tried to commit suicide but was dramatically converted through the ministry of Brother Andrew. She then began to minister to the poor and marginalized on the streets of Amsterdam and in the volatile townships of South Africa during the height of the apartheid era. Having survived an abusive marriage and the turmoil of divorce she married a poor African pastor and went to Malawi to start an orphanage. Today Annie has nearly 200 children in her care, many of whom are HIV positive, and she has built a small town called Kondanani ('Love one another'), which boasts a care facility, several children's homes, a nursery school, primary school and farm. Kondanani is an oasis of love in a country with more than one million orphans. It has attracted the attention of the media all around the world and a host of celebrities, including Madonna who has adopted two of her children.
- Publisher


Meet the Author
Al Gibson
Born in Zimbabwe in 1962, Al Gibson graduated with a degree in journalism and worked on the Rand Daily Mail before training at the Rhema Bible School. Since 2001 he has lived and worked in Britain with GOD TV as their Central Communications Officer. He and his wife Jeanine have four children.