Mountain Refuge (Love Inspired Suspense Series)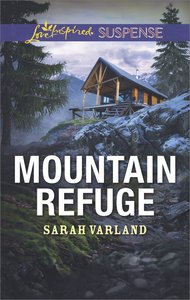 Alaskan rescuer!When someone tries to grab Summer Dawson on a secluded mountain path, she escapes - but soon discovers she's a serial killer's latest target. Her brother's friend, ex-cop Clay Hitchcock, promises she won't become the next victim, though, even if it means putting himself at risk. Clay thought he was done with law enforcement, but after finding Summer running for her life off a mountain trail, he's back in cop mode. Determined to protect her, Clay shadows the brave, beautiful mountain runner. Now if they want to stay alive, Clay and Summer must work together to bring down the crazed killer lurking in the wilderness.

- Publisher
You May Also Be Interested In
About "Mountain Refuge (Love Inspired Suspense Series)"
Alaskan rescuer!When someone tries to grab Summer Dawson on a secluded mountain path, she escapes - but soon discovers she's a serial killer's latest target. Her brother's friend, ex-cop Clay Hitchcock, promises she won't become the next victim, though, even if it means putting himself at risk. Clay thought he was done with law enforcement, but after finding Summer running for her life off a mountain trail, he's back in cop mode. Determined to protect her, Clay shadows the brave, beautiful mountain runner. Now if they want to stay alive, Clay and Summer must work together to bring down the crazed killer lurking in the wilderness.
- Publisher


Meet the Author
Sarah Varland
Sarah Varland lives in the woods in Georgia with her husband John, their two boys, and their dogs. Her passion for books comes from her mom, her love for suspense comes from her dad who has spent a career in law enforcement. Her love for romance comes from the relationship she has with her husband and from watching too many chick flicks. When she's not writing, she's often found, reading, baking, kayaking or hiking.
Other Titles In The "Love Inspired Suspense Series" Series View All
$7.99




Available Now. 25+ Available

Formats

$5.99

Nett


Available for immediate download.

Formats

$7.99




Available Now. 10+ Available

Formats

$7.99




Available Now. 25+ Available

Formats