Movements That Change the World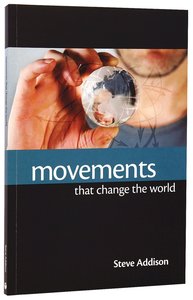 This book is for anyone who wants to follow Jesus and change the world.

Movements that change the world are characterized by white-hot faith, commitment to a cause, contagious relationships, rapid mobilization,and adaptive methods. Jesus founded a missionary movement. His followers are called to continue his mission in the power of the Holy Spirit.

"A thoroughly readable description of the dynamics of missionary movements, as well as how to initiate, maintain, and extend them."
- Alan Hirsch, author of The Forgotten Ways.

"Steve identifies the core characteristics of movements in a way that enables all of us to understand."
- Bob Roberts, author of The Multiplying Church.

"Steve casts a compelling future vision by tracing God's discernible lessons demonstrated in movements. He taps into the heart hunger of the growing number of us that want to see God do something great."
- Ed Stetzer, missiologist and author of Planting Missional Churches


- Author
You May Also Be Interested In
About "Movements That Change the World"
This book is for anyone who wants to follow Jesus and change the world.

Movements that change the world are characterized by white-hot faith, commitment to a cause, contagious relationships, rapid mobilization,and adaptive methods. Jesus founded a missionary movement. His followers are called to continue his mission in the power of the Holy Spirit.

"A thoroughly readable description of the dynamics of missionary movements, as well as how to initiate, maintain, and extend them."
- Alan Hirsch, author of The Forgotten Ways.

"Steve identifies the core characteristics of movements in a way that enables all of us to understand."
- Bob Roberts, author of The Multiplying Church.

"Steve casts a compelling future vision by tracing God's discernible lessons demonstrated in movements. He taps into the heart hunger of the growing number of us that want to see God do something great."
- Ed Stetzer, missiologist and author of Planting Missional Churches


- Author
- Koorong


Meet the Author
Steve Addison
Steve Addison has been a life-long student of movements that renew and expand the Christian faith. Steve distills the characteristics of dynamic movements and makes them available to leaders committed to the multiplication of disciple-making churches.Steve began his research into Christian movements in the late 1980s while serving as a church planter in Melbourne, Australia. He carried that interest into his Doctor of Ministry with Fuller Seminary.Steve currently serves as Director of Church Resource Ministries (CRM) Australia, a member of the CRM global community. CRM empowers leaders for the church.Steve loves walking, historical novels, Shakespeare, anything written by G K Chesterton or C S Lewis, Sunday afternoon naps, watching Australia beat the Poms at cricket, and supporting the Collingwood Football Club.