Moving Miss Peggy - Free Preview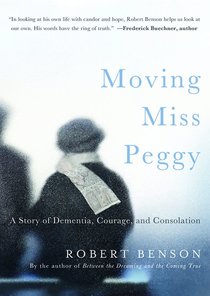 "I am not ever going to get to go home, am I?," she said one day. This is the story of moving Miss Peggy to a new place to live, to a new way of life, to a new kind of reality. All of which became necessary because Miss Peggy had begun to live a life colored by dementia. All of us who love her have begun to live that new life with her. Some of that story is here as well.

In Moving Miss Peggy we also meet the story of siblings, grown apart over years, with nothing in common except for a mother who in wrestling through her own challenges gave each grown child the gift of a deeply felt reunion, long years after any of them suspected there was a possibility of reconciling grace.

Written with grace, candor and bittersweet humor, Moving Miss Peggy tells a story that many others are now facing, bringing strength and wisdom and inspiration to readers. We learn (and learn again) along with Miss Peggy and her family some of the very basics for living life well.

- Publisher
You May Also Be Interested In
About "Moving Miss Peggy - Free Preview"
"I am not ever going to get to go home, am I?," she said one day. This is the story of moving Miss Peggy to a new place to live, to a new way of life, to a new kind of reality. All of which became necessary because Miss Peggy had begun to live a life colored by dementia. All of us who love her have begun to live that new life with her. Some of that story is here as well.

In Moving Miss Peggy we also meet the story of siblings, grown apart over years, with nothing in common except for a mother who in wrestling through her own challenges gave each grown child the gift of a deeply felt reunion, long years after any of them suspected there was a possibility of reconciling grace.

Written with grace, candor and bittersweet humor, Moving Miss Peggy tells a story that many others are now facing, bringing strength and wisdom and inspiration to readers. We learn (and learn again) along with Miss Peggy and her family some of the very basics for living life well.
- Publisher


Meet the Author
Robert Benson
Robert Benson is a popular author, spiritual director and conference speaker. He is the author of six previous books, including Living Prayer, Venite : A Book of Daily Prayer, Digging In: Tending to Life in Your Own Backyard, Home by Another Way: Notes from the Caribbean, The Body Broken: Answering God's Call to Love One Another and Between the Dreaming and the Coming True. He lives in Nashville, Tennessee.