Mr Eternity: The Story of Arthur Stace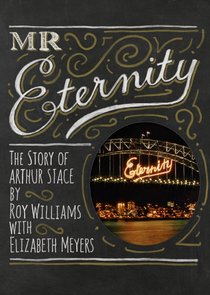 Almost every day for 35 years, Arthur Stace spent hours writing a single word ? 'Eternity' ? on and around the streets of Sydney. Sometimes his mission took him much further afield, to country New South Wales and even to Melbourne.Stace's identity was a mystery for more than two decades. Then, after his ?unmasking? in 1956, he became a reluctant folk hero. By the time he died, in 1967, his was a household name and the word Eternity was ingrained in the soul of Sydney. It still is.In this long-awaited biography, the full story of Arthur Stace's life is told for the first time in vivid and often surprising detail. Drawing upon many original sources, some never before made public, this book will engross Christians and non-believers alike ? anyone who loves a great Australian story.

- Publisher
You May Also Be Interested In
About "Mr Eternity: The Story of Arthur Stace"
Almost every day for 35 years, Arthur Stace spent hours writing a single word ? 'Eternity' ? on and around the streets of Sydney. Sometimes his mission took him much further afield, to country New South Wales and even to Melbourne.Stace's identity was a mystery for more than two decades. Then, after his ?unmasking? in 1956, he became a reluctant folk hero. By the time he died, in 1967, his was a household name and the word Eternity was ingrained in the soul of Sydney. It still is.In this long-awaited biography, the full story of Arthur Stace's life is told for the first time in vivid and often surprising detail. Drawing upon many original sources, some never before made public, this book will engross Christians and non-believers alike ? anyone who loves a great Australian story.
- Publisher


Meet the Authors
Roy Williams
One of Australia's emerging public intellectuals and writers, Roy Williams' distinguished 20-year career in the legal profession was cut short in 2004 when he experienced a life-changing illness. Forced to leave the law, he took time to recuperate before deciding to become a writer. His book reviews appear regularly in The Australian and The Sydney Morning Herald. He also contributes to Australian Literary Review, Dissent and Inside Sport, he recently authored God Actually.
-Editorial Review.
Elizabeth Meyers
Elizabeth Meyers¿ father, Lisle Thompson, was the minister of Burton Street Baptist Tabernacle in Darlinghurst from 1951 to 1964 and also a dear friend and mentor of Arthur Stace. Elizabeth worked as a teacher for 26 years after attending Sydney Unversity and qualifying in early childhood/special education. She and her husband Lionel have two daughters and four grandchildren. Elizabeth has written this biography of Arthur Stace with Roy Williams to fulfil a promise to her mother, May, as Lisle Thompson received permission from Arthur to write his life story `only after his death.¿