Muhammad: The Man Who Transformed Arabia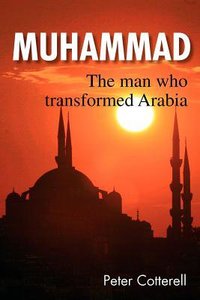 Muhammad: the man who transformed Arabia. The man whose life in some measure determines the everyday behaviour of more than a billion of his followers across the world. And yet a man it is difficult to know. As the author of this book points out, biographies of Muhammad have tended to present him either as a man who could do nothing right or else as a man who could do nothing wrong. Somewhere in between is the real Muhammad. Dr Cotterell has taught and lectured on Islam for more than 30 years. For over 20 years he lived and worked in Ethiopia. This book is the result of those years of struggling to understand Islam and Muhammad, its central figure.

- Publisher
You May Also Be Interested In
About "Muhammad: The Man Who Transformed Arabia"
Muhammad: the man who transformed Arabia. The man whose life in some measure determines the everyday behaviour of more than a billion of his followers across the world. And yet a man it is difficult to know. As the author of this book points out, biographies of Muhammad have tended to present him either as a man who could do nothing right or else as a man who could do nothing wrong. Somewhere in between is the real Muhammad. Dr Cotterell has taught and lectured on Islam for more than 30 years. For over 20 years he lived and worked in Ethiopia. This book is the result of those years of struggling to understand Islam and Muhammad, its central figure.
- Publisher


Meet the Author
Peter Cotterell
Peter Cotterell (PhD., University of London, Hon DUniv. FRSA) is Associate Senior Lecturer in Islamic Studies. Peter Cotterell's distinguished career includes 19 years lecturing at London School of Theology, where he also served as Principal, and 23 in the mission field in Ethiopia, where he founded the Ethiopian Graduate School of Theology. His publications in Linguistics, Missiology, Islam and Communications total 17 books including One God: the deity revealed in Jesus, Islam in Conflict, Is God Helpless? and Linguistics and Biblical Interpretation .-Editorial Review.
Table Of Contents
Map Of The Arabian Peninsula And Surrounding Nations In The Seventh Century Ad; Map Of Arabia At The Time Of Muhammad; Chart Of The Family Of Muhammad And The Relationship Between Sunni And Shi'a Islam; Acknowledgements; An Introduction And An Explanation; Part One: Prologue; 1. Man Of Destiny; 2. Mecca: A City Of Destiny; Part Two: The Years Of Endurance; 3. In The Beginning; 4. Paying The Price; Part Three: The Turn Of The Tide; 5. The End Of The Beginning; 6. Medina: And Fresh Problems; 7. Fighting, Always Fighting; 8. The Ultimate Prize; Part Four: Sunset; 9. The Polytheists' Final Challenge; 10. At The End Of The Day; Summing Up; Bibliography; About The Author.