Multi-Careering (Frames Barna Group Series)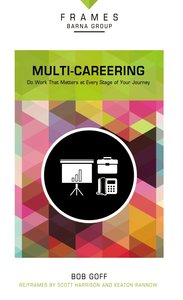 Job changes. Restructures. A waning passion. Retirement. A new 'norm' for length at any job. All of these, and more, lead us to wonder about the legacy we are leaving this world. Are we leaving it better than we found it? Are we able to separate our identity from our career? Maybe you know the deep passion you recently discovered (or re-discovered), that lay dormant for 30 years. Or perhaps you don't know yet what that calling is, but you know there is more than what you are doing now. Join Bob Goff, founder of Restore International, in this Barna Frame as you explore a biblical perspective on the legacy you are leaving, even as you face a career transition.

- Publisher
You May Also Be Interested In
About "Multi-Careering (Frames Barna Group Series)"
Job changes. Restructures. A waning passion. Retirement. A new 'norm' for length at any job. All of these, and more, lead us to wonder about the legacy we are leaving this world. Are we leaving it better than we found it? Are we able to separate our identity from our career? Maybe you know the deep passion you recently discovered (or re-discovered), that lay dormant for 30 years. Or perhaps you don't know yet what that calling is, but you know there is more than what you are doing now. Join Bob Goff, founder of Restore International, in this Barna Frame as you explore a biblical perspective on the legacy you are leaving, even as you face a career transition.
- Publisher


Meet the Authors
Barna Group
In its 30-year history, Barna Group has conducted more than one million interviews over the course of hundreds of studies, and has become a go-to source for insights about faith and culture, leadership and vocation, and generations. Barna Group has carefully and strategically tracked the role of faith in America, developing one of the nation's most comprehensive databases of spiritual indicators. Notable clients include the Salvation Army, World Vision, Habitat for Humanity, Sony, Walden Media, Easter Seals, the Humane Society, the Gates Foundation, and NBC Universal. The firm's research is often quoted in major media outlets such as CNN, USA Today, the Wall Street Journal, Fox News, Chicago Tribune, Huffington Post, the New York Times, Dallas Morning News, and the Los Angeles Times.
Bob Goff
Bob Goff is the founder of Love Does, a nonprofit organization that operates schools and pursues justice for children in conflict areas such as Uganda, Somalia, and Iraq. Bob is a lawyer and serves as the honorary consul for the Republic of Uganda to the United States. He is an adjunct professor at Pepperdine Law School and Point Loma Nazarene University and lives in San Diego with Sweet Maria, their kids, and extended family.

Other Titles In The "Frames Barna Group Series" Series View All