Multicultural Ministry Handbook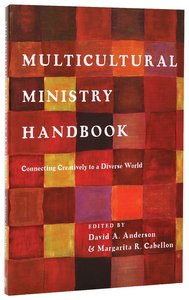 The world is becoming increasingly diverse. More and more of our neighbours are from a variety of cultures, ethnicities and cultural backgrounds. But most churches are still culturally homogenous and do not represent every tribe and tongue. What can we do to minister more effectively to our multicultural society?David Anderson and Margarita Cabellon bring together an experienced team of practitioners to share best practices for multicultural ministry. First they lay out the biblical rationale for multicultural community as God's vision for his people. Then key leaders share personal journeys and practical ideas for multicultural leadership development, worship, children's ministry, outreach and much more. Drawing on the pioneering expertise of Bridgeway Community Church and BridgeLeader Network, the contributors present a holistic and multifaceted portrait of what a dynamic, grace-filled and diverse ministry can look like.Our tribalized world is crying out for healing. Discover how you can minister to others as agents of God's reconciliation and hope.



- Publisher
You May Also Be Interested In
About "Multicultural Ministry Handbook"
The world is becoming increasingly diverse. More and more of our neighbours are from a variety of cultures, ethnicities and cultural backgrounds. But most churches are still culturally homogenous and do not represent every tribe and tongue. What can we do to minister more effectively to our multicultural society?David Anderson and Margarita Cabellon bring together an experienced team of practitioners to share best practices for multicultural ministry. First they lay out the biblical rationale for multicultural community as God's vision for his people. Then key leaders share personal journeys and practical ideas for multicultural leadership development, worship, children's ministry, outreach and much more. Drawing on the pioneering expertise of Bridgeway Community Church and BridgeLeader Network, the contributors present a holistic and multifaceted portrait of what a dynamic, grace-filled and diverse ministry can look like.Our tribalized world is crying out for healing. Discover how you can minister to others as agents of God's reconciliation and hope.


- Publisher


Meet the Authors
David Anderson
David A. Anderson (D. Phil., Oxford) is the founder and senior pastor at Bridgeway Community Church, one of the nation's leading multicultural churches, located in Columbia, Maryland.
He serves as CEO of BridgeLeader Network (a consulting organization) and an instructor of cultural diversity at the University of Phoenix (Columbia Campus).
His books include Letters Across the Divide (Baker, 2001); Gracism: The Art of Inclusion (Intervarsity Press; 2010); Multicultural Ministry (Zondervan, 2004) and The Platinum Rule: Doing Good to Those Who Have Hurt You.
Anderson was the first African American to be student body president at Moody Bible Institute, and he is a Fellow in the Oxford Society of Scholars. Anderson is also the nationally syndicated radio talk show host of "Reconciliation Live."
Table Of Contents
1 The Building Blocks Of A Multicultural Ministry

david Anderson

2 Relational Training For A Multicultural Church

frank Eastham

3 Lessons Learned By A White Pastor In A Multicultural Church

dave Michener

4 Pastoral Care And Education

dan Taylor

5 Creative Arts And Multicultural Ministry

rich Becker

6 Multicultural Worship

nikki Lerner

7 Multicultural Prayer Ministry

k. C. Whang

8 Multicultural Children's Ministry

karen Eastham

9 Multicultural Student Ministry

jared Sorber

10 Community Outreach

dave Michener

11 Going Further

margarita Cabellon

Contributors

About Bridgeway Community Church