Muslims, Christians, and Jesus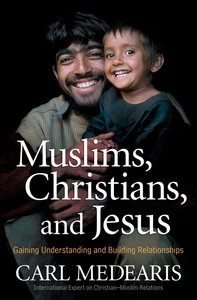 Based on the author's twenty-five years of first-hand experience, this engaging book reveals what Islam really teaches and how today's Muslims live and think. With practical information and personal stories, Carl Medearis shows readers how they can build life-changing bridges between the world's two largest religions--one person at a time, whether in the US or elsewhere.

- Publisher
You May Also Be Interested In
About "Muslims, Christians, and Jesus"
Based on the author's twenty-five years of first-hand experience, this engaging book reveals what Islam really teaches and how today's Muslims live and think. With practical information and personal stories, Carl Medearis shows readers how they can build life-changing bridges between the world's two largest religions--one person at a time, whether in the US or elsewhere.
- Publisher


Meet the Author
Carl Medearis
Carl Medearis has extensive experience working and living with Muslims. A highly sought-after Islamic expert, he works with international government and business leaders and speaks at conferences and universities to 40,000 people annually. After 12 years of living in Beirut, Lebanon, Carl and his family now make their home in Colorado Springs.


He is the author of Speaking of Jesus: The Art of Not-Evangelism; Muslims, Christians, and Jesus: Gaining Understanding and Building Relationships and Tea with Hezbollah: Sitting at the Enemies Table Our Journey Through the Middle East with Ted Dekker