My Heart, the Holy Spirit's Home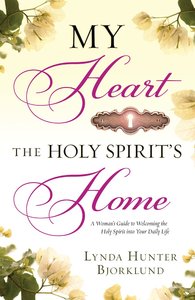 Open Your Heart and Let the Spirit In!

The Holy Spirit is the Teacher ready to personalize your individual program of growth in God. He's the Attendant waiting to take your arm and lead you to places beyond your wildest dreams. He's the Guide who loves to bring the Word alive in your life. Like the other members of the Trinity, He is real and tangible and longs to commune with you throughout your day.

Sounds amazing, doesn't it? If you are hungry for deep communion with God, the Holy Spirit is ready and willing to make that happen. He only awaits your permission to be a free, active and personal influence on your heart. But how? My Heart, the Holy Spirit's Home answers your questions about the Holy Spirit and shows you how to exchange caution for certainty and weakness for power. This scripturally rich yet accessible book is your invitation to develop an intimate, daily relationship with the Spirit by opening the door of your life to His indwelling.

- Publisher
You May Also Be Interested In
About "My Heart, the Holy Spirit's Home"
Open Your Heart and Let the Spirit In!

The Holy Spirit is the Teacher ready to personalize your individual program of growth in God. He's the Attendant waiting to take your arm and lead you to places beyond your wildest dreams. He's the Guide who loves to bring the Word alive in your life. Like the other members of the Trinity, He is real and tangible and longs to commune with you throughout your day.

Sounds amazing, doesn't it? If you are hungry for deep communion with God, the Holy Spirit is ready and willing to make that happen. He only awaits your permission to be a free, active and personal influence on your heart. But how? My Heart, the Holy Spirit's Home answers your questions about the Holy Spirit and shows you how to exchange caution for certainty and weakness for power. This scripturally rich yet accessible book is your invitation to develop an intimate, daily relationship with the Spirit by opening the door of your life to His indwelling.
- Publisher


Meet the Author
Lynda Bjorklund
Dr. Lynda Bjorklund is founding editor of Focus on the Family's Single Parent Magazine as well as an accomplished author and host of a weekly call-in radio show, and writes a syndicated newspaper column for Universal Press Syndicate. Dr. Bjorklund resides in Colorado Springs, Colorado.