My Year With a Horse: Feeling the Fear But Doing It Anyway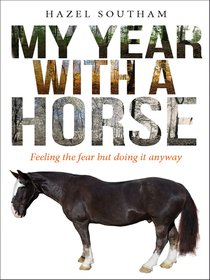 Hazel had been scared of horses all her life, and an earlier attempt to overcome her fear had ended in failure. She was still overcoming fear in other areas, travelling around the world with her job, reporting on areas recovering from war, famine, disease and catastrophe. And eventually she took up riding again - only to face bigger fears, when illness struck her. Even worse, her father's dementia grew so bad that her mother had a heart attack and Hazel had to put her father into a home. As poor health threatened to derail her career, and family tragedy looked likely to break her heart, she was loaned a big old horse called Duke. He stood far taller than her at every point, and she was afraid. Yet somehow, as she rode him through the Hampshire countryside, she found solace and healing. Gradually her fears began to subside.

- Publisher
You May Also Be Interested In
About "My Year With a Horse: Feeling the Fear But Doing It Anyway"
Hazel had been scared of horses all her life, and an earlier attempt to overcome her fear had ended in failure. She was still overcoming fear in other areas, travelling around the world with her job, reporting on areas recovering from war, famine, disease and catastrophe. And eventually she took up riding again - only to face bigger fears, when illness struck her. Even worse, her father's dementia grew so bad that her mother had a heart attack and Hazel had to put her father into a home. As poor health threatened to derail her career, and family tragedy looked likely to break her heart, she was loaned a big old horse called Duke. He stood far taller than her at every point, and she was afraid. Yet somehow, as she rode him through the Hampshire countryside, she found solace and healing. Gradually her fears began to subside.
- Publisher


Meet the Author
Hazel Southam
Having written for national newspapers and magazines for over twenty-seven years, Hazel currently writes mainly for The Times, the Telegraph and the Mail. She has travelled to more than thirty countries but is a rural girl at heart, having grown up in a village where her family have lived for over five hundred years. This is her first book.