Mystery of the Midnight Rider (#03 in Nancy Drew Diaries Series)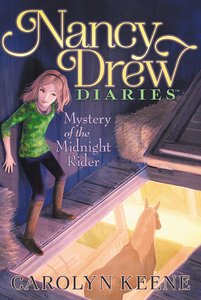 Some equestrians are up to more than horseplay in this third book of the Nancy Drew Diaries, a fresh approach to a classic series.

At the prestigious-and competitive-River Heights Horse Show, the prizes, which range from money to possible placement on the Olympic Team, are so highly coveted that anyone from the riders to the owners will do anything to win...even drug the horses! Who's up to no good? Nancy, Bess and George are on the case!

- Publisher
Also Available In
You May Also Be Interested In
About "Mystery of the Midnight Rider (#03 in Nancy Drew Diaries Series)"
Some equestrians are up to more than horseplay in this third book of the Nancy Drew Diaries, a fresh approach to a classic series.

At the prestigious-and competitive-River Heights Horse Show, the prizes, which range from money to possible placement on the Olympic Team, are so highly coveted that anyone from the riders to the owners will do anything to win...even drug the horses! Who's up to no good? Nancy, Bess and George are on the case!
- Publisher


Meet the Author
Carolyn Keene
Carolyn Keene was the pseudonym used by Mildred Wirt Benson when she wrote the popular Nancy Drew Mystery series. After her graduation from the University of Iowa, Benson began writing for Edward Stratemeyer. Consequently, Benson has been credited as the author of most of the first Nancy Drew books, but Harriet Stratemeyer Adams wrote the later books and edited the ones written by Benson.
Other Titles In The "Nancy Drew Diaries Series" Series View All