Narrative Reading Narrative Preaching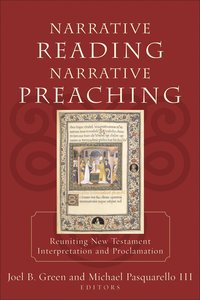 There is often an unfortunate division between the technical work of biblical scholars and the practical work of preachers who construct sermons each week. These two fields of study, which ought to be mutually informed and supportive, are more often practically divided by divergent methods, interests, and goals. Narrative Reading, Narrative Preaching aims to bridge that divide.
& #9;Using narrative as an organizing theme, the contributors work through the New Testament offering

- Publisher
You May Also Be Interested In
About "Narrative Reading Narrative Preaching"
There is often an unfortunate division between the technical work of biblical scholars and the practical work of preachers who construct sermons each week. These two fields of study, which ought to be mutually informed and supportive, are more often practically divided by divergent methods, interests, and goals. Narrative Reading, Narrative Preaching aims to bridge that divide.
& #9;Using narrative as an organizing theme, the contributors work through the New Testament offering
- Publisher


Meet the Authors
Joel B Green
Joel B. Green (Ph.D., University of Aberdeen) is professor of New Testament interpretation at Fuller Theological Seminary in Pasadena, California. Prior to this he was dean of the School of Theology and professor of New Testament interpretation at Asbury Theological Seminary.
He is the author or editor of numerous books, including the Dictionary of Jesus and the Gospels; 1 Peter (The Two Horizons New Testament Commentary series), The Gospel of Luke (The New International Commentary of the New Testament), and Recovering the Scandal of the Cross with Mark D. Baker. He is preparing the forthcoming replacement volume on The Acts of the Apostles also in the NICNT series and James in the New Testament Library.
Koorong -Editorial Review.
Michael Iii Pasquarello
Michael Pasquarello III (Ph.D., University of North Carolina, Chapel Hill) is Granger E. and Anna A. Fisher Professor of Preaching at Asbury Theological Seminary and has more than twenty years of pastoral experience in the United Methodist Church. He is the author of Sacred Rhetoric: Preaching as a Theological and Pastoral Practice of the Church and the co-editor of Narrative Reading, Narrative Preaching: Reuniting New Testament Interpretation and Proclamation.