Near to the Heart of God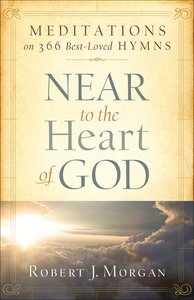 The lyrics of our favorite hymns are rich in images that can help us in our daily walk with God--they are miniature Bible studies that lead us effortlessly toward worship, testimony, exhortation, prayer, and praise. They're bursts of devotional richness with rhyme and rhythm. They clear our minds, soothe our nerves, verbalize our worship, summarize our faith, and sing our great Redeemer's praise. Bestselling author Robert J. Morgan has gathered 366 hymns, including favorites such as "Amazing Grace" and "Rock of Ages," as well as classic, lesser-known gems such as "In the Garden" and "Teach Me to Pray."

Each devotional begins with Scripture, includes a story about the hymn or its writer and the lyrics to the hymn, and ends with a prayer. An index of hymn titles and first lines is included. What better way to end your devotional reading than with a song in your heart?

- Publisher
You May Also Be Interested In
About "Near to the Heart of God"
The lyrics of our favorite hymns are rich in images that can help us in our daily walk with God--they are miniature Bible studies that lead us effortlessly toward worship, testimony, exhortation, prayer, and praise. They're bursts of devotional richness with rhyme and rhythm. They clear our minds, soothe our nerves, verbalize our worship, summarize our faith, and sing our great Redeemer's praise. Bestselling author Robert J. Morgan has gathered 366 hymns, including favorites such as "Amazing Grace" and "Rock of Ages," as well as classic, lesser-known gems such as "In the Garden" and "Teach Me to Pray."

Each devotional begins with Scripture, includes a story about the hymn or its writer and the lyrics to the hymn, and ends with a prayer. An index of hymn titles and first lines is included. What better way to end your devotional reading than with a song in your heart?
- Publisher


Meet the Author
Robert J Morgan
Robert J. Morgan is a Gold Medallion Award-winning author and has served as pastor of The Donelson Fellowship in Nashville, Tennessee, for nearly thirty years. He holds degrees from Columbia International University (BS), Wheaton Graduate School (MA), and Luther Rice Seminary (M.Div.).
His books include Then Sings My Soul (Volumes 1 and 2); Nelson's Annual Preacher's Sourcebook; Nelson's Complete Book of Stories, Illustrations, and Quotes; The Promise; My All in All; and The Red Sea Rules. Rob and his wife have three daughters and nine grandchildren.