Never Surrender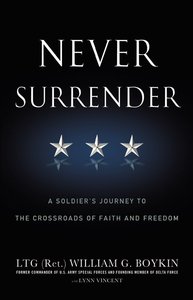 General Jerry Boykin is one of the original members of the Delta Force and has spent the majority of his career in Special Forces. His work in this area of the military placed him in many battles--some of them legendary. He was commander of the Delta Force team portrayed in the movie Black Hawk Down.

These and other dramatic experiences make Boykin's life story read like the riveting fiction of Tom Clancy. He shares how his foundation of faith--while challenged and even broken--was restored and became the lifeblood that brought him through unimaginable circumstances to a rich and inspiring life.

In the end, the general realizes his life would have gone very differently, even tragically, without his faith.



- Publisher
You May Also Be Interested In
About "Never Surrender"
General Jerry Boykin is one of the original members of the Delta Force and has spent the majority of his career in Special Forces. His work in this area of the military placed him in many battles--some of them legendary. He was commander of the Delta Force team portrayed in the movie Black Hawk Down.

These and other dramatic experiences make Boykin's life story read like the riveting fiction of Tom Clancy. He shares how his foundation of faith--while challenged and even broken--was restored and became the lifeblood that brought him through unimaginable circumstances to a rich and inspiring life.

In the end, the general realizes his life would have gone very differently, even tragically, without his faith.


- Publisher


Meet the Author
Jerry Boykin
Lieutenant General William "Jerry" Boykin served in a variety of posts during his 36-year career in the Army, most of them involving Delta Force and Special Forces. He is an original member of the Army's Delta Force. His last post was as the Deputy Assistant Secretary of Defense for Intelligence in the Pentagon, overseeing the gathering and exploitation of intelligence during the wars in Afghanistan and Iraq.