Never Too Late (#03 in Carolina Cousins Series)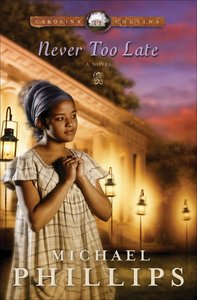 Fire. It had ripped Seffie from her family and stolen her dearest friend. Will she allow it to destroy her one chance at happiness?

Growing up a slave, Seffie served as companion to a sickly white girl and learned to read and write and even speak French. But her life of relative comfort soon comes to an end. When loss and tragedy drive the joy from her life, Seffie quickly learns to guard her heart and hide her past. Secretly, Seffie nurtures a new dream: to seek freedom in the North. But even if she succeeds, can she face the final test of fire?

Can her wounded heart learn to love again?
Or is it too late?

Why danger would stalk such a peace-loving soul was a mystery no one in Greens Crossing ever quite understood except those involved. And they were not the kind of men who talked....

On this particular day in the fall of the year 1869, the local KKK had decided to modify their tactics. They would strike in broad daylight and in plain sight, in order to teach a lesson none in the community would forget.

And so as the fifteen or more white-robed riders galloped toward Greens Crossing a little before noon, the burning torches in their hands were not to light their way as would have been the case had the raid come in the middle of the night.

They intended to put the fire to another use....Michael Phillips is a bestselling author with more than 70 of his own titles plus serving as editor/redactor of nearly 30 more books. He is known as the man responsible for the reawakened interest in George MacDonald of the last twenty years. In addition to the MacDonald titles adapted/edited for today's reader, his publishing efforts in bringing back full-length quality facsimile editions also spawned renewed interest in MacDonald's original work. Michael and his wife, Judy, spend time between Scotland and their home in Eureka, California. Visit Michael's Web site at www.macdonaldphillips.com
You May Also Be Interested In
About "Never Too Late (#03 in Carolina Cousins Series)"
Fire. It had ripped Seffie from her family and stolen her dearest friend. Will she allow it to destroy her one chance at happiness?

Growing up a slave, Seffie served as companion to a sickly white girl and learned to read and write and even speak French. But her life of relative comfort soon comes to an end. When loss and tragedy drive the joy from her life, Seffie quickly learns to guard her heart and hide her past. Secretly, Seffie nurtures a new dream: to seek freedom in the North. But even if she succeeds, can she face the final test of fire?

Can her wounded heart learn to love again?
Or is it too late?

Why danger would stalk such a peace-loving soul was a mystery no one in Greens Crossing ever quite understood except those involved. And they were not the kind of men who talked....

On this particular day in the fall of the year 1869, the local KKK had decided to modify their tactics. They would strike in broad daylight and in plain sight, in order to teach a lesson none in the community would forget.

And so as the fifteen or more white-robed riders galloped toward Greens Crossing a little before noon, the burning torches in their hands were not to light their way as would have been the case had the raid come in the middle of the night.

They intended to put the fire to another use....Michael Phillips is a bestselling author with more than 70 of his own titles plus serving as editor/redactor of nearly 30 more books. He is known as the man responsible for the reawakened interest in George MacDonald of the last twenty years. In addition to the MacDonald titles adapted/edited for today's reader, his publishing efforts in bringing back full-length quality facsimile editions also spawned renewed interest in MacDonald's original work. Michael and his wife, Judy, spend time between Scotland and their home in Eureka, California. Visit Michael's Web site at www.macdonaldphillips.com
- Koorong


Meet the Author
Michael Phillips
Michael Phillips is today recognized as one of the Christian bookselling industry's most prolific and versatile authors. He has authored more than 100 books, with total sales exceeding five million copies. He's also the editor of the popular GEORGE MACDONALD CLASSICS series. He and his wife make their home in Eureka, California.
Other Titles In The "Carolina Cousins Series" Series