New 2: 7 Series #02 Deepening Your Roots in God's Family (#02 in New 2 7 Series)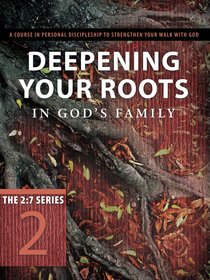 When a tree takes root, it's not long before the action is mirrored above ground. And so it is with you. The deeper you root your life in Christ, the stronger you'll become.
In this Bible study, you'll first learn how to make Christ the Lord of your life. Then you'll discover how easy it is to branch out by reviewing your spiritual life and sharing it with others.
Recently updated, The 2:7 Series focuses on having a more relational relationship with God. Now with more room to write answers and journal, your course in personal discipleship just went deeper.
- Publisher
The apostle Paul writes that we are to be transformed, but for many Christians, figuring out how to approach spiritual transformation can be elusive. Bestselling author Jerry Bridges helps us understand that we have available to us the ultimate power source for true spiritual growth: the gospel.

In The Transforming Power of the Gospel, Bridges guides you through a thorough examination of:

• what the biblical meaning of grace is and how it applies to your life
• how Jesus' work in His life and death applies to the believer in justification and adoption
• why basic spiritual disciplines are necessary for spiritual growth
• what role the Holy Spirit plays in both definitive and progressive sanctification


- Publisher
You May Also Be Interested In
About "New 2: 7 Series #02 Deepening Your Roots in God's Family (#02 in New 2 7 Series)"
When a tree takes root, it's not long before the action is mirrored above ground. And so it is with you. The deeper you root your life in Christ, the stronger you'll become.
In this Bible study, you'll first learn how to make Christ the Lord of your life. Then you'll discover how easy it is to branch out by reviewing your spiritual life and sharing it with others.
Recently updated, The 2:7 Series focuses on having a more relational relationship with God. Now with more room to write answers and journal, your course in personal discipleship just went deeper.

- Publisher


The apostle Paul writes that we are to be transformed, but for many Christians, figuring out how to approach spiritual transformation can be elusive. Bestselling author Jerry Bridges helps us understand that we have available to us the ultimate power source for true spiritual growth: the gospel.

In The Transforming Power of the Gospel, Bridges guides you through a thorough examination of:

• what the biblical meaning of grace is and how it applies to your life
• how Jesus' work in His life and death applies to the believer in justification and adoption
• why basic spiritual disciplines are necessary for spiritual growth
• what role the Holy Spirit plays in both definitive and progressive sanctification


- Publisher
Meet the Author
The Navigators
The Navigators is an interdenominational, nonprofit organization dedicated to helping people "know Christ and make Him known" as they look to Him and His Word to chart their lives.Navigators have invested their lives in people for more than seventy-five years, coming alongside them life on life to study the Bible, develop a deepening prayer life, and memorize and apply Scripture, The ultimate goal is to equip Christ followers to fulfill 2 Timothy 2:2--to teach what they have learned to others.Today, tens of thousands of people worldwide are coming to know and grow in Jesus Christ through the v
Other Titles In The "New 2:7" Series