Nice Girls Don't Change the World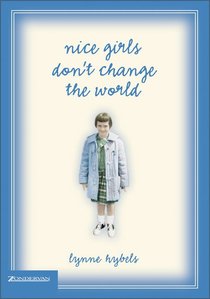 Margaret Mead said: "Never doubt that a small group of thoughtful, committed citizens can change the world." My version of that quote is: "Never doubt that a community of thoughtful, committed women, filled with the power and love of God, using gifts they have identified and developed, and pursuing passionsplanted in them by God--never doubt that these women can change the world."--Lynne HybelsNice Girls are taught early that serving God means earning God's love and sacrificing oneself to meet the needs of others. Unfortunately, after living a life she thought was what God demanded, her husband wanted, her kids needed, and her church expected, Lynne Hybels felt utterly lost--both to herself and to God.In this wise and tender book, Hybels tells of her struggle to stop living someone else's life and to reclaim the unique gifts, strengths, and passions God gave her. And she reveals how turning away from her false view ofGod as a harsh and demanding taskmaster enabled her to rest at last

- Publisher Who you really are as an individual is exactly what delights God and what the world needs. Lynne Hybels knows. Sharing from her personal journey, she reveals the tremendous importance of resisting the forces that would shape you into something other-and less-than who God made you to be.

- Publisher
You May Also Be Interested In
About "Nice Girls Don't Change the World"
Margaret Mead said: "Never doubt that a small group of thoughtful, committed citizens can change the world." My version of that quote is: "Never doubt that a community of thoughtful, committed women, filled with the power and love of God, using gifts they have identified and developed, and pursuing passionsplanted in them by God--never doubt that these women can change the world."--Lynne HybelsNice Girls are taught early that serving God means earning God's love and sacrificing oneself to meet the needs of others. Unfortunately, after living a life she thought was what God demanded, her husband wanted, her kids needed, and her church expected, Lynne Hybels felt utterly lost--both to herself and to God.In this wise and tender book, Hybels tells of her struggle to stop living someone else's life and to reclaim the unique gifts, strengths, and passions God gave her. And she reveals how turning away from her false view ofGod as a harsh and demanding taskmaster enabled her to rest at last
- Publisher

Who you really are as an individual is exactly what delights God and what the world needs. Lynne Hybels knows. Sharing from her personal journey, she reveals the tremendous importance of resisting the forces that would shape you into something other-and less-than who God made you to be.
- Publisher


Meet the Author
Lynne Hybels
Lynne Hybels joined her husband, Bill, in starting Willow Creek Community Church in 1975. She has edited many books and is coauthor of Rediscovering Church and Fit to Be Tied. She has been involved in Willow Creek's ministry partnerships in Latin America and currently serves as an advocate for those affected by HIV/AIDS in Africa. SPANISH BIO: Lynne Hybels junto a su esposo Bill inicio Willow Creek Community Church en 1975. Ha editado varios libros y es coautora de Rediscovering Church y Fit to Be Tied. Ha colaborado con asociaciones del ministerio de Willow Creek en Latinoamerica y actualment
Excerpt
Excerpt from: Nice Girls Don't Change the World
I want to tell you about someone I used to know very well. She was a nice girl: obedient, polite, socially acceptable. A bit too reticent, some might say, but so very pleasing, nonetheless. A really nice girl. Oh yes, her gaze seemed empty at times and her words sometimes rang, well, not false really, but perhaps a bit flat. Okay, I sometimes had the feeling she was just going through the motions of life, but they were such nice motions. Everybody liked her. She had an uncanny ability to keep almost everybody happy almost all the time, though she didn't truly seem to be very happy herself. But I could be wrong; she was always smiling. I don't know that I ever heard her laugh---and no one ever accused her of being wildly in love with life---but she had such a nice smile. She was a very caring person, though in a passive sort of way. She was not the type to turn the world upside down. Still, she was a very nice girl. What I mean to say, as you might have guessed, is that I was a very nice girl. A nice girl. There's nothing wrong with being a nice girl, especially when you consider the alternatives: A naughty girl? A mean girl? A bad girl? Who wants to be like that? I didn't. I really didn't. What I wanted was to be a godly girl. From the time I became a Christian at age seven, I wanted to please God, and I took that desire very seriously. I grew up in the 1950s and '60s in a small Michigan town, where I attended a church that was a fine church in many ways. But the preaching during my most impressionable years was pretty much hellfire and brimstone. I heard a lot about sin and punishment, guilt and shame.