Nine Thoughts That Can Change Your Marriage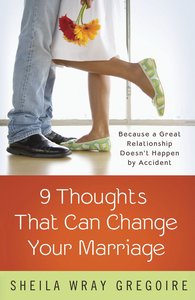 Is what you believe about marriage getting in the way of a GREAT relationship?


When you've put into practice all the usual advice, but your marriage still falls short of the intimacy and joy you want, what then? Are patience and perseverance your only hope for a better relationship?
Author and speaker Sheila Wray Gregoire says, "Absolutely not!" The solution to a happier relationship is not found in being a more patient, more perfect wife, but in taking responsibility for what you can do-and especially for how you think about your marriage. She challenges you to replace pat Christian answers with nine biblical truths that will radically shift your perspective on your husband, your relationship, and your role in God's design for marriage, including&...
· My Husband Can't Make Me Mad
· Being One Is More Important Than Being Right
· Having Sex Is Not the Same as Making Love
With humor and honesty, Sheila invites you to believe that God wants to bring oneness and intimacy to your marriage-and challenges you to partner with Him in that process by changing the way you think.


From the Trade Paperback edition.

- Publisher
You May Also Be Interested In
About "Nine Thoughts That Can Change Your Marriage"
Is what you believe about marriage getting in the way of a GREAT relationship?


When you've put into practice all the usual advice, but your marriage still falls short of the intimacy and joy you want, what then? Are patience and perseverance your only hope for a better relationship?
Author and speaker Sheila Wray Gregoire says, "Absolutely not!" The solution to a happier relationship is not found in being a more patient, more perfect wife, but in taking responsibility for what you can do-and especially for how you think about your marriage. She challenges you to replace pat Christian answers with nine biblical truths that will radically shift your perspective on your husband, your relationship, and your role in God's design for marriage, including&...
· My Husband Can't Make Me Mad
· Being One Is More Important Than Being Right
· Having Sex Is Not the Same as Making Love
With humor and honesty, Sheila invites you to believe that God wants to bring oneness and intimacy to your marriage-and challenges you to partner with Him in that process by changing the way you think.


From the Trade Paperback edition.
- Publisher


Meet the Author
Sheila Gregoire
From a babysitting collective to an herbal bath business, Sheila Wray Gregoire would rather create her own job than have someone hire her--a born entrepreneur. But being raised by a single mom, even one who did a wonderful job, left a hole where her father should have been and fueled her passion to preserve marriages. She and her husband, Keith, "tag-team" homeschool their kids. She also writes for national magazines and speaks across the country, combining the realities of a family with Scripture for real-world, real-biblical answers.