NIRV Holy Bible (For Young Readers)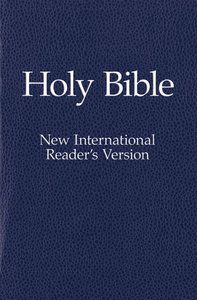 You May Also Be Interested In
About "NIRV Holy Bible (For Young Readers)"
Great for school, church, and home, this easy-to-read Bible is perfect for anyone just learning to read. Includes the complete NIrV translation -- written at a third-grade reading level.
- Koorong


This Bible uses the full text of the New International Reader's Version® written at the third-grade reading level - the youngest reading level of any translation. Like the NIV on which it is based, the NIrV combines great accuracy and readability. It simply goes further to make the Bible understandable, even to those as young as age six. It's the perfect chance for beginning readers to embark on their exploration of the Bible. Special features include: Book Introductions-provide the main theme of the book and an outline of the contents; Dictionary-to key Bible words for quick reference; Reading Plan-150 famous Bible stories providing a great overview of Scripture.
- Publisher