NIV Cultural Backgrounds Study Bible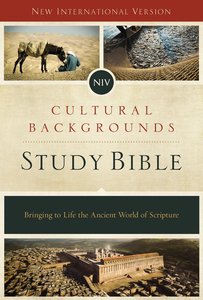 Also Available In
You May Also Be Interested In
About "NIV Cultural Backgrounds Study Bible"
2017 ECPA BIBLE OF THE YEAR RECIPIENT
"How I wish someone had put a book like this into my hands 50 years ago." - N.T. Wright, Research Professor of New Testament and Early Christianity, University of St. Andrews, Scotland
"I cannot recommend a study Bible any more than this one: Five stars!" - Scot McKnight, Julius R. Mantey Professor of New Testament, Northern Seminary
CONTEXT CHANGES EVERYTHING
You've heard many Bible stories hundreds of times, but how many behind-the-scenes details are you missing? Sometimes a little context is all you need to discover the rich meaning behind the stories of Scripture.
That's what the NIV Cultural Backgrounds Study Bible provides. Every page is packed with expert insight into the customs, culture, and literature of Bible times. These fascinating explanations will serve to clarify your study of the Scriptures, reinforcing your confidence and bringing difficult passages of Scripture into sharp focus.
Discover new dimensions of insight to even the most familiar Bible passages as you take a behind-the-scenes tour into the ancient world.
The Bible was originally written to an ancient people removed from us by thousands of years and thousands of miles. The Scriptures include subtle culturally based nuances, undertones, and references to ancient events, literature and customs that were intuitively understood by those who first heard the Scriptures read. For us to hear the Scriptures as they did, we need a window into their world.
The NIV Cultural Backgrounds Study Bible, with notes from Dr. John H. Walton (Wheaton College) in the Old Testament and Dr. Craig S. Keener (Asbury Theological Seminary) in the New Testament, brings to life the ancient world of Scripture for modern readers.
Features:
The full text of the NIV
Targeted book introductions explain the context in which each book of the Bible was written
Insightful and informative verse-by-verse study notes reveal new dimensions of insight to even the most familiar passages
Key Old Testament (Hebrew) and New Testament terms are explained and expanded upon in two helpful reference features
Over 300 in-depth articles on key contextual topics
375 full-color photos, illustrations, and images from around the world
Dozens of charts, maps, and diagrams in vivid color
Words of Jesus in red
Additional study Bible tools: cross references, a concordance, indexes and other helps
- Publisher
Customer Reviews For "NIV Cultural Backgrounds Study Bible"
Write Your Own Review
A Study Bible Every Minister and Christian Should Own
By Dr. Bernard Low,

Sep 04 2017
This new study Bible ought to be in the library of every minister or Christian. Through detailed book introductions, comments and notes on almost every page, and full-color maps and charts, the Bible student will learn about the cultural background of the biblical books which will shed interesting light and insight. For a long time, the Scriptures have been read through Western lens. This study Bible does the Christian Church a great service by underscoring the need for us to read and study the Bible against its cultural backdrop. Highly recommended!
---
Great Bible
By Steven,

Aug 02 2017
This is an excellent Bible by two of the most amazing and critical scholars of our time. if you enjoy this check out their 2 volume commentary the IVP Bible Background Commentary.
---
Love the images
By Penina,

May 26 2017
I love the charts, images, maps etc... It broadens your knowledge overall if you want to learn more ...
---
Great reference Tool
By Bis,

May 16 2017
Excellent layout, charts and maps and historical and cultural information to enhance your understanding of the Bible books. However I would define this Bible as a more historical background Bible than cultural. The contents could have been enhanced by small margin notes about cultural context such as comments on early Christian meetings which days or comments on Paul shaving his head because of a vow just to name a few. No detailed comments have been made regarding certain practices e.g. Jewish burial practice next to the paragraph about the Lord's body being taken down. 
The contributors toed the traditional line of crucifixion even when detailing the Passion Week citing Friday when there is ample evidence to say it probably was a Wednesday - just to give an example. Overall a great reference tool to enhance some background information, easy to read and well laid out.
---
Excellent NIV Study Bible
By Ash,

Apr 21 2017
This is an excellent NIV Study Bible for anyone who wants to understand the historical and cultural context of scripture. I have a much better understanding of some of the more difficult books of the Bible because of the historical and cultural explanations that the editors provide. 
{{review.title}}
By {{review.author.name}},

{{review.reviewCreatedDate | date:'MMM dd yyyy'}}

{{reviewdescription}}
{{review.text}}
---