NIV First-Century Study Bible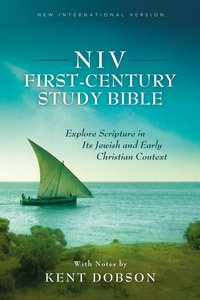 Also Available In
You May Also Be Interested In
About "NIV First-Century Study Bible"
"The NIV First-Century Study Bible was created to help you understand God's Word in its original cultural context. It introduces you to an ancient world vastly different from your own, but rich in valuable life lessons. This Bible is designed with great tools to help answer your questions about life in Bible times. As you dive in, you'll see how the ancient past holds applicable truths for life today.
The NIV First-Century Study Bible includes fascinating articles from Pastor Kent Dobson, unpacking the culture of Bible times, illuminating Scripture passages, and asking thoughtful questions along the way. Kent is the teaching pastor at Mars Hill Bible Church in Grandville, Michigan, where he initially served as the worship director. He has been featured on Biblical programs for the History Channel and the Discovery Channel. Kent fell in love with Biblical studies in Israel and had the privilege of learning from both Jewish and Christian scholars. After his time in Israel, he returned to the States to teach high school religion and Bible before responding to God's call to the pastorate. Today, he keeps his connection to the Holy Land strong, leading tours to Israel that combine study and prayer, inspired by the ancient discipline of spiritual pilgrimage.
This edition includes unique features to help shed light on the historical context of the Scriptures:
Complete NIV Bible text • Day In the Life Articles, describing daily life in Bible times • Word Studies expound upon original Hebrew words • "Addressing the Text" articles help you dive deeper • Study notes include writings from early church writers, rabbis, and extra-biblical sources • Full Color photographs, maps, and diagrams • Book introductions and outlines. The First Century Study Bible helps you explore Scripture in its Jewish and Early Christian context. Order yours today.
This Bible offers supplemental information on the following topics: Abomination that Causes Desolation, Antiochus IV Epiphanies, Conversion, Covenant, Dead Sea Scrolls, Essenes, Desert Law, Diviners in the Ancient World, Intertestamental Times, The Ethics of War, The Shema, Life in the Diaspora, The Greek Lions, The Biblical View on Slavery, Did Moses write the Torah, The Spirit of YHWH, Zealots, Wine Making"
- Publisher
Meet the Author
Kent Dobson
Kent Dobson teaches Bible and Theology at Grand Rapids Christian Schools. His educational background is in English, Biblical Studies and Comparative Religion. He lived in Israel where he studied at Jerusalem University College and the Hebrew University. He has also served as the Worship Director for a Grand Rapids church, as well as hosted Bible related programs for the Discovery Channel and the History Channel. He also leads groups to Israel on a contemporary pilgrimage.
Customer Reviews For "NIV First-Century Study Bible"
Write Your Own Review
A Must-Owned Study Bible
By Dr. Bernard Low,

Jul 06 2018
If you are a collector and student of study Bibles, this one by Kent Dobson is a must-have in one's library. Study notes, articles, word studies, references to the rabbis, church fathers and extra-biblical sources, and full color photos, maps and diagrams inform one's reading and study of the Bible. These study features help one to appreciate the biblical texts in their historical and cultural contexts. In recent years, it is heartening to see more and more resources made available to help Christians return to and understand the Jewish roots of our Christian Faith. 
---
Another resourceful Bible study tool
By Bis,

May 29 2017
This is similar to the Cultural Background Bible but I would say fits more the cultural background description than the other product. I am not quite sure if one should call it first century study Bible because the entire Bible is not based on either the format or the text of the fist century but useful hebrewgreek word study as well as the usual background and study notes are very helpful in understanding the books being read. Very well laid out, good maps and other study tools. the Bible is laid out for continuous reading with no centre column reference breaking up the chapters. Not so good for centre column marginal reference lovers but this Bible is one I don't think I would like to highlight and mark but instead use it to complement a main study Bible. Overall, a very good resource for new and old Christians alike.
---
Love IT
By Helen Birch,

Mar 13 2015
As a person who is fascinated with history both ancient and early church, I have found this Bible to be a wealth of information providing insightful backgrounds to what I am reading. As well as notes on the bottom of each page like all Study Bibles you are treated to informative word studies of Hebrew or Greek words of significance within each chapter. There are numerous textual articles and what I find fascinating, 'Day in the Life' articles which give you a snapshot of life during the period the Book is referring too. There are also the usual maps and charts sprinkled throughout the Bible.
There are references to wider works written by Josephus, Jerome and Philo, to name a few, as well as references to Rabbinic traditions which all help you to appreciate a wider picture of what you are reading.
The only thing which seems to be missing are the cross references down a middle column which I was so used to with my old NIV Study Bible. There is some cross referencing but nowhere near as much as I would personally like. However that aside, I am loving my new Bible and would thoroughly recommend it to anyone who has a keen interest in the historical background of what they are reading. 
{{review.title}}
By {{review.author.name}},

{{review.reviewCreatedDate | date:'MMM dd yyyy'}}

{{reviewdescription}}
{{review.text}}
---