NIV Life Journey Bible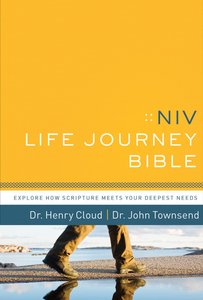 You May Also Be Interested In
About "NIV Life Journey Bible"
This ebook Bible was created for you, a person seeking personal growth -- in your understanding of your world and yourself. Inside this Bible is the bestselling NIV Bible text plus notes based on popular life principles developed by Dr. John Townsend and Dr. Henry Cloud. Their Biblical approach to spiritual, emotional and relational health is rooted in the view that complete wholeness is deeply spiritual in nature, leading you on a journey to find the answers for your whole life.
- Koorong


"Like going to a trusted Christian counselor, this Bible will guide you in emotional development and relationship health. Doctors Henry Cloud and John Townsend - bestselling authors of How People Grow and the Boundaries series - have created the NIV Life Journey Bible based on their many years of helping patients achieve personal growth and wholeness.
It will enable you to understand God's heart, which will shed new light on your life path, and lead you on a journey to the answers you've been searching for. You'll see how God's Word gives you an effective plan to stay spiritually healthy as you transition into and out of life's various phases. The Insights, Essays, and Profiles offer valuable life lessons by pointing out where emotional health and maturity, or their absence, occur in various stories throughout Scripture. The Life Journey Study Bible is a great tool for anyone seeking personal growth.
Henry Cloud
Dr. Henry Cloud is a best-selling author, popular speaker, and co-host (with Dr. John Townsend) of the nationally broadcast New Life Live! Radio program. He is also co-founder of Cloud-Townsend Clinic and Cloud-Townsend Resources. His bestselling books include the Gold Medallion Award-winning Boundaries series and Making Small Groups Work. Dr. Cloud and his wife and two daughters live in Southern California.
John Townsend
Dr. John Townsend is a leadership consultant, psychologist, and New York Times bestselling author. He has written twenty-seven books, selling over 8 million copies, including the 3 million-selling Boundaries series. John is founder of the Townsend Institute for Leadership and Counseling and conducts the Townsend Leadership Program. He travels extensively for corporate consulting, speaking, and working with leaders and their families. He and his wife, Barbi, live in Newport Beach, California. They have two sons.
This edition includes many features to help illuminate your journey:
New International Version Bible text • 300 Insights that offer an inside track on tips for emotional and relational health • Over 30 profiles of biblical figures reveal the growth principles found in God's Word • 66 book introductions call out key growth concepts in each book of the Bible • 20 essays share important principles of spiritual growth, covering topics like growth, grief, and relationships • Reading plans • Subject Index • Index
Order your copy of the NIV Life Journey Study Bible today and start the journey of finding the answers for your whole life.
This Bible offers supplemental information on the following topics: God is the Source of Life, Blame is Part of Fallen Human Nature, God's Plan: Redemptive Time, One Step at a Time, Leave the Old Life Behind, What Marriage Is, Love Means Allowing Others Freedom, God has Plans for Our Good, How Forgiveness Frees Us, Fleeing Temptation, Two Types of Suffering, Faith in Action, Forgiveness Doesn't Allow Abuse, Influence Not Control, Passover Faith, Limiting Burnout, God Sets His Own Boundaries, Following the Crowd, Learning to Receive Forgiveness, Address Conflicts Directly, Respecting Others Boundaries, Holiness and Your Life, Grumbling and Its Cure, Reconciliation, The Sins of Parents, Blind Spots, Finding Life, How the Spirit Works, Big Prayers, Letting Children Choose, Handling Manipulation, Empathy, No Excuses, Be Faithful Not Perfect"
- Publisher
Meet the Authors
Henry Cloud
Dr. Cloud is a clinical psychologist with a unique ability to connect with his audiences. Drawing upon his broad range of experiences in private practice, leadership consulting, and media, he simplifies life's issues and gives easy-to-understand, practical advice. It is Dr. Cloud's humour, compassion, and 'in the moment' confrontation that make his approach to psychology and spirituality such a success.

He has written or co-written 19 books, including the best-selling Boundaries. His most recent books are Integrity, Necessary Endings and The Law of Happiness. He has earned three Gold Medallion awards and was awarded the distinguished Retailers Choice award for God Will Make A Way.

Dr. Cloud has appeared on numerous radio and television broadcasts and has been featured in many publications. Millions of listeners have benefited from his wit and wisdom for over a decade.

As president of Cloud-Townsend Resources, he has produced and conducted hundreds of public seminars around the country. He speaks on relationships - marriage, parenting, dating, personal growth, and spirituality. His seminars are often broadcast live to over two thousand venues at a time.

In his consulting practice, he works with leaders of organisations and corporations, from family-held firms to Fortune 25 companies and non-profit organisations. With his extensive executive coaching background and experience as an organisational and leadership consultant, he speaks regularly at corporate and leadership events held across the United States and internationally.

Dr. Cloud co-founded a health-care company that operated treatment centres in 35 cities in the Western United States; he served as Clinical Co-Director for ten years. In that context of hands-on clinical experience, he researched and developed many of the treatment methods and principles he communicates to audiences today. Since then, he has devoted his time to spreading principles of hope and life change through speaking, writing, and the media. His books have sold over four million copies.

He is a graduate of Southern Methodist University, having earned a BS in psychology with honours. He completed his PhD in clinical psychology at Biola University and his clinical internship at Los Angeles County Department of Mental Health. His philanthropic interests lie in the area of homelessness and the inner city, as well as Third World missions and development. He serves on the board of the Los Angeles Mission, a rescue mission on Skid Row in downtown Los Angeles.

Dr. Cloud is an avid golfer and enjoys boating, deep sea fishing and scuba diving. He lives in Los Angeles.
John Townsend
Dr. John Townsend (Psy.D., Rosemead Graduate School of Psychology) is a psychologist, popular speaker, radio host and the bestselling author and co-author of numerous books, including the Gold Medallion award-winning Boundaries and God Will Make a Way. He is co-founder of the Cloud-Townsend Clinic in Southern California.
Media