NIV New Mum's Prayer Bible (1984)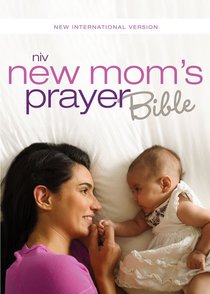 You May Also Be Interested In
About "NIV New Mum's Prayer Bible (1984)"
With 52 one-minute 'Thought-Starters,' as well as guides for reflection, prayer, and study, the NIV New Mom's Prayer Bible eBook is perfect spiritual fuel for you, the new mother, whether this is your first child or your fifth.
- Koorong


Got a Minute? Only a minute? This Bible is designed just for you. Being a new mom presents many challenges, but it doesn't have to keep you from finding time to connect with God. Throughout the NIV New Mom's Prayer Bible you will find 52 one-minute "Thought-Starters" that let you dip into God's Word for a minute of refreshment. These are followed by an option for a five-minute "Pray" exercise or a ten-minute "Study" exercise that will help you learn even more about what God's Word has to say to you today. Devotional thoughts specifically for you, the new mom, cover topics such as disciplining children, your influence as a mom, marriage, emotions, and your identity in Christ. NIV ©2011. The New International Version (NIV) translation of the Bible is the world's most popular modern-English Bible-easy to understand, yet rich with the detail found in the original languages.
- Publisher