No Ceiling to Hope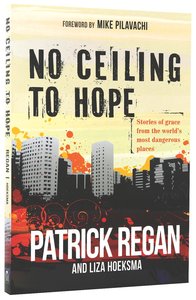 Servants of Christ are in the transformation business. This kind of transformation will only happen if we refuse to be seduced by false idols like success, money, fame and security - to be the church we were called to be. We need to take ownership of the problems around us and work with people who are suffering in order to find solutions and offer lasting change. Patrick travels the globe to find examples. In Bolivia he reports how Christian backing for education projects is allowing families to find a way out of poverty. In London XLP is mentoring young people to turn aside from violence. In Los Angeles a new future is being offered to gang girls. In high security prisons in the UK and US the Spirit is turning lives around. In Belfast's Shankill Road area a group of elderly ladies is cooking meals for men who sit all day in local pubs ...the list is extensive, and inspiring. The common element is that in all circumstances the churches are offering hope.

- Publisher
You May Also Be Interested In
About "No Ceiling to Hope"
Servants of Christ are in the transformation business. This kind of transformation will only happen if we refuse to be seduced by false idols like success, money, fame and security - to be the church we were called to be. We need to take ownership of the problems around us and work with people who are suffering in order to find solutions and offer lasting change. Patrick travels the globe to find examples. In Bolivia he reports how Christian backing for education projects is allowing families to find a way out of poverty. In London XLP is mentoring young people to turn aside from violence. In Los Angeles a new future is being offered to gang girls. In high security prisons in the UK and US the Spirit is turning lives around. In Belfast's Shankill Road area a group of elderly ladies is cooking meals for men who sit all day in local pubs ...the list is extensive, and inspiring. The common element is that in all circumstances the churches are offering hope.

- Publisher
- Koorong

"Read this page turner, be inspired by its faith-filled authenticity, and catch the spirit of hope that keeps the world changers going. Brilliant and refreshing." - Jeff Lucas, author, speaker, broadcaster No Ceiling to Hope describes how all over the world - from Bolivia to Bangladesh, LA to Peckham - Christians are making a difference. Where poverty, gangs, homelessness and addiction exist the church is getting its hands dirty. Patrick shows how God's people are offering hope in the midst of pain. "As Christians there is no ceiling to the hope we can bring, even when things look bleak," he says. "Extreme poverty has been halved in the last 30 years. This book encourages and challenges the church to think and act creatively to eradicate all types of poverty and suffering." "An amazingly hopeful manifesto for change."- Danielle Strickland, author, The Liberating Truth "You'll walk away from it dreaming bigger." - Vicky Beeching, worship leader and blogger "Taps into the unlimited potential of the One who can transform the heart and restore the city." - Louie Giglio, Pastor, Passion City Church, Atlanta "Some of the most thrilling stories you'll ever read of the transforming power of Jesus." - Revd Eric Delve, St Luke's Maidstone "Patrick puts his hands on the ugliness of our world and squeezes out huge portions of hope. This isn't about wishful thinking; it's about God at work." - Joel Edwards, International Director, Micah Challenge "Moving and inspiring - it cannot fail to challenge all who read it." - Revd Les Isaac, founder, Street Pastors
- Publisher


Meet the Author
Patrick Regan
Patrick is the founder of the charity XLP, which fights poverty, supports education and helps young people in the London area. He recently won the Mayor of London's peace award, speaks regularly at Soul Survivor and Spring Harvest, and is a frequent guest on radio and TV programmes speaking about issues of poverty and justice.